Degree Options: Major, Minor
Locations: Lincoln Center and Rose Hill
Visit the Art History Department
From the Guggenheim to Five Points, we are the (art) world. Get inspired.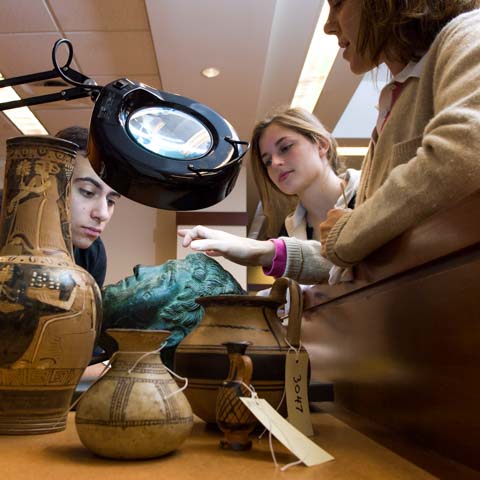 Old Masters at the Met. Button-pushers at MoMA. Cutting edge experiments at the galleries of SoHo and Chelsea. The arts of Asia and Latin America. Explore it all with the Department of Art History at Fordham.
You stand at the center of the art universe in New York City, home to world-class art collections and the artistic masters of tomorrow.
You'll study the great accomplishments of European, Latin American, U.S., and Asian art, and beyond and will learn how artists were inspired by and grappled with the historical, political, and intellectual challenges of their day through images and the built environment.
Art is essential to human experience. That's why art history plays a central role in Fordham's liberal arts curriculum.
Whether you want to curate the medieval art collection at a museum, sign new artists for a Bushwick gallery, bang the auction gavel, or publish art books, studying art history at Fordham gives you the tools to sketch out a creative career.
Of course, you'll learn more than art history here. You'll also study philosophy, theology, economics, mathematics, languages, science, and the performing arts through Fordham's common core curriculum, the centerpiece of our liberal arts education.
Get close to works of art that take your breath away with an internship at one of the world's leading art institutions, including:

Metropolitan Museum of Art
MoMA
Guggenheim Museum
Studio Museum of Harlem
New Museum of Contemporary Art
International Center of Photography
El Museo del Barrio
Drawing Center
New-York Historical Society
Christie's
Sotheby's

Other internship opportunities abound at art magazines, art appraisers, and private galleries all over New York City.

Build a foundation for a career in environmental design with the department's pre-architecture program. Learn how to construct a corner café, raise an office tower, design the décor for a boutique hotel, or save the best of the past through historic preservation.

The Fordham Museum of Greek, Etruscan, and Roman Art houses 260 outstanding/exquisite objects, from funerary vases to the emperor Hadrian's head (in sculpture form). Want an inspired cram session? The museum is open until midnight.

Every other week or so wraps up with Museum Friday at The Metropolitan Museum of Art, where art history professors lead students through different areas of the museum's enormous collection.

Or experience masterpieces in their original settings. Study abroad enriches you academically, culturally, and personally, and there are programs in Paris, Rome, Berlin, Madrid, and elsewhere with outstanding offerings in art history. The Stark Family Travel Grant sends art history majors to Europe to experience its treasures firsthand during spring or summer break. Bellissimo.

There is a whole globe of other study abroad possibilities available through Fordham's International and Study Abroad Program.

Museum Studies in Ancient Art
American Art
Asian Art
Aztec Art
Age of Cathedrals
Gender and Modern Art
Environmental Design
Issues in Architecture

Sure, now you can discuss the technological nuances of Roman architecture and the role of calligraphy in the traditional Japanese Tea Ceremony. You know Klimt from Kahlo and Koons. Now what?

The tools and knowledge you learn in art history prepare you for a range of professional possibilities. Some of the many outlets for art history majors:

Galleries
Auction Houses
Architectural Conservation
Art and Estate Appraisal
Art Librarianship
Antiquities
Historic Preservation
Museum Curation
Art Consulting
Art Education
Antiquarian Book/Print Trade

The pre-architecture program teaches you highly sought skills in computer-aided drafting and design (CAD). It's great training for work in real estate, construction, historic preservation, and interior design.
Learn More About the Art History Degree