Degree Options: Major, Minor
Locations: Lincoln Center, Rose Hill
Visit the History Department
"Study the past if you would define the future."—Confucius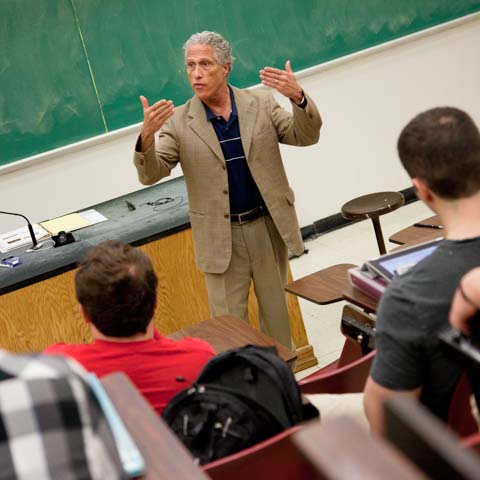 We in the Fordham history department embrace and explore our collective human past every day. It's through the past that we understand the present—and chart a more insightful course for the future.
You will study the development of peoples and nations, their interrelations and interactions, and the events that have shaped the modern world. You will come to see yourselves and your society from different times and places. This informed perspective on the world will guide your thinking and career.
You learn how to analyze societies and peoples in context—a valuable asset for many professional careers that require broad social vision and global awareness.
You'll be taught by our highly respected history faculty, who have received teaching awards, book awards, and prestigious fellowships. They shape and administer interdisciplinary programs such as American Studies, Latin American and Latino Studies, Medieval Studies, and International Studies.
You'll learn more than history here. You'll also study philosophy, theology, economics, mathematics, languages, science, and the performing arts through Fordham's common core curriculum, the centerpiece of our liberal arts education.
We want you to excel in your field—and as a human being.
History majors are required to take 10 courses:

1 Understanding Historical Change
1 Departmental Seminar
8 Advanced History Electives, of those 8:

1 must be Medieval
1 must be European
1 must be American
1 must be Global

You can also earn a minor in history by taking 6 classes in the department.

Internships

On-site learning at some of the world's leading cultural institutions is just a subway ride away:

New-York Historical Society
Bronx African American Oral History Project
Gilder-Lehrman Institute of American History
American Museum of Natural History
Schomburg Center
El Museo del Barrio
Artists Space
Asian Society and Museum
The Jewish Museum
The Cloisters

Opportunities for Excellence

The Phi Alpha Theta history honors society, which fosters intellectual exchange between high-achieving students and faculty members through:

on-campus events, seminars, and lectures
faculty-led field trips to New York City's renowned cultural institutions

The History Department Research Society sharpens the research skills of its most promising students. The Society identifies and trains students in original research, in-depth writing and publishable-quality. Students in the program are especially well prepared to apply for fellowships, graduate school, or jobs.

The Accelerated MA program, in which students can earn a master's degree in history in five years.

Become a Higher Education Opportunity Program Tutor at our Rose Hill campus. You'll help other students achieve their academic goals—and get paid.

Teach as soon as you graduate. In your senior year, you can earn a teaching certificate from Fordham's Graduate School of Education at Lincoln Center that qualifies you to teach in public schools.

Study Abroad

Study abroad enriches you academically, culturally, and personally. There is a whole globe of study abroad possibilities available through Fordham's International and Study Abroad Program.

Understanding Historical Change: Modern America
African Icons
Byzantium and the West
Medieval Warfare
Women in the Middle Ages
The Global Cold War
Ireland, 1688–1923
The Making of Modern Science
The Modern Middle East
Rebellion in Latin America
Jews, Christians, and Muslims in Chinese History

Your degree in history equips you with communication, research, and analytic skills that are in great demand in graduate school and the workplace—from the business world and law to the nonprofit sector.

Careers where history counts:

Law
Publishing
Journalism
Government
Education
Public service
Finance
Museums
Libraries
Research institutions
Religious organizations
Nonprofit organizations
Environmental consulting

Our career services tap Fordham's ties with more than 3,500 companies. We offer:

postgraduation career search
resume development, interviewing practice
networking skill development
hands-on case-study sessions with industry executives
field-specific advising/coaching

You also get access to our powerful (and Fordham-loyal) network of alumni, who want to see you succeed as they have.
Learn More About the History Degree