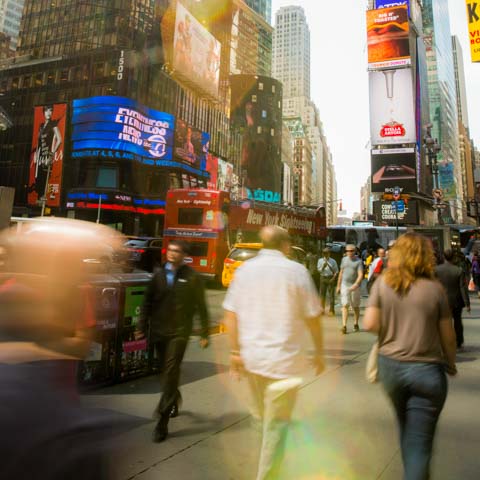 Degree Options: Major, Minor
Locations: Lincoln Center, Rose Hill
Visit the Urban Studies Program
Learn how cities tick in one of the most influential urban centers on the planet.
For the first time in human history, more people live in cities than on farms. How do cities differ from Anchorage to Santiago, Reykjavik to Tokyo, Casablanca to Capetown? What happens when so many people cluster so close together? How do people think, work, and live? Who excels, and who falls behind?
Designed as an interdisciplinary program, our program offers a broad introduction to the city and the urban environment. You'll combine coursework and research in a variety of disciplines with hands-on experience in New York City as well as other American and international cities.
You'll graduate ready to pursue a wide range of careers in government service, community development, nonprofit, journalism, teaching, social work, public policy, architecture, urban planning, law, and more.
You'll learn more than urban studies here. You'll also study philosophy, theology, history, mathematics, languages, science, and the performing arts through Fordham's common core curriculum, the centerpiece of our liberal arts education.
We want you to excel in your field—and as a human being.
As an urban studies major, you'll take 10 courses. It's an interdisciplinary program, so you'll take classes in a range of disciplines, including:

Sociology
Economics
Political Science
African American Studies
Latino Studies
Architecture
Urban Design
Environmental Studies

We also offer an urban design and architecture concentration that will prepare you for graduate study in urban and regional planning, architecture, and landscape architecture.

Internships

What better place to put your urban studies knowledge to work than New York City? An internship is an integral—and required—part of the urban studies major. We connect you with community organizations where you can choose from a variety of fields, including:

Tutoring
Youth Leadership
Housing
Urban and Economic Development
Counseling
Advocacy
Architecture and Planning

Study Abroad

We enthusiastically encourage you to venture abroad for your urban studies education. There is a globe of possibilities available through Fordham's International and Study Abroad Program.

Some of the countries where universities offer urban studies and planning courses:

Argentina
Australia
Austria
Brazil
Dominican Republic
France
India
Jordan
Korea
Portugal
Senegal

Sample Courses
Urban Politics
Urban Psychology
Architectural Design
Anthropology of Cities
Islamic City
Urban Economics
Green Architecture
European Cities
East Asian Cities
The African City
Urban Poverty

The interdisciplinary approach of the urban studies major prepares you for a wide range of careers. Some of the many places our graduates have landed:

—in the nonprofit sector:

Hostos Center for Arts and Culture
United Jewish Organizations of Williamsburg
Robert Rauschenberg Foundation

—in urban planning, architecture, and urban design:

New York City Department of Planning
American Society of Landscape Architects New York Chapter
Metropolitan Planning Council

—in real estate, development, consulting, and management:

Centerline Capital Group
MP Engineers, P.C.
MTA Capital Construction

—in business and finance:

Citi
Wells Fargo Advisors, LLC
Symantec

—in education and research:

Chicago Public Schools
San Francisco State University
NASA Ames Research Center

—in lobbying and government:

Stop the Violence, Office of the Mayor, City of New York
Farmers Market, City of Ann Arbor
U.S. Department of Labor's Emergency Management Center

—in medicine and health:

Holy Name Medical Center
Medic Mobile
Franciscan Hospital for Children

—in arts and design:

WNYC Radio
London Artscom, Central Saint Martins College of Art and Design
Bruno NYC MSY Design

You get access to our powerful (and Fordham-loyal) network of alumni, who want to see you succeed as they have.
Learn More About the Urban Studies Program