Degree Options: Major, Minor
Locations: Lincoln Center, Rose Hill
Visit the Environmental Science Department
Science that leads to environmental solutions.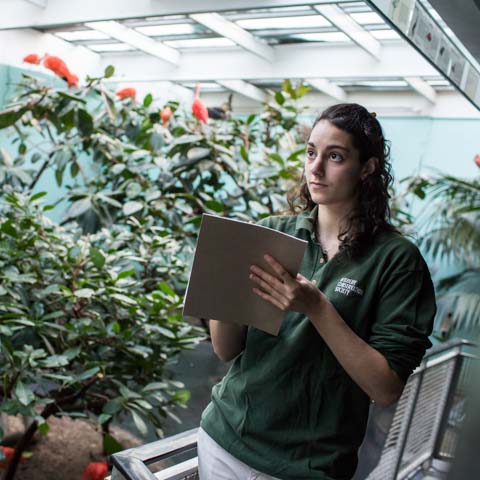 In the environmental science major at Fordham, you'll investigate the complex intersection of physical, chemical, and biological sciences that together forms the field of environmental science. You'll rely on science to understand the anthropogenic (human-made) causes and effects of environmental problems.
And you'll study in New York City, one of the most vibrant centers of environmental education and urban ecology in the world.
Of course, you'll learn more than environmental science here. You'll also study philosophy, theology, economics, mathematics, languages, and the performing arts through Fordham's common core curriculum, the centerpiece of our liberal arts education.
As an environmental science major, your studies include:

foundation courses in biology, chemistry, and physics
electives that allow you to tailor your interests toward life or chemical sciences
environmental research and internships
humanities, policy, and ethics courses with an environmental emphasis

In your first two years you'll develop a solid scientific grounding. After that you'll specialize in the area you feel most passionate about through coursework, independent research, and internships.

Facilities

Because of environmental science's interdisciplinary nature, you will conduct research in dedicated departmental labs:

Biological Sciences
Chemistry
Physics
Natural Sciences

At the Calder Center Biological Field Station, a 113-acre expanse of forest, lakes, and wetlands in nearby Armonk, N.Y, you can take ecology classes and conduct field research alongside a selected number of biologists who focus on water management and conservation for government and industry.

At the Center for Urban Ecology, you can study the intersection of nature and the city with scientists researching the impact of urbanization on regional ecosystems and the role people play in physiological, ecological, and evolutionary processes.

Fieldwork

Academic Internships are available at world-renowned institutions:

Bronx River Alliance (New York Department of Parks)
Wildlife Conservation Society (Bronx Zoo)
New York Botanical Garden
American Museum of Natural History
Environmental Consortium of Hudson River Colleges and Universities

Summer Internships are available throughout the U.S. and the New York City area:

Global Ecology Lab
General Physics
Organic Chemistry Lab
Evolutionary Biology
Animal Behavior

Instrumental Analysis
Environmental Science Internship
Environment: Science, Law, and Policy
Economics of Energy

Environmental science graduates frequently pursue advanced graduate work that leads them to important research in government, private and nonprofit sectors around the globe.

Some fields our graduates work in:

conservation
ecological or climate modeling
policy development, education, and consulting
research
regulatory monitoring

Our Alumni Career Advisory Board will be a constant resource during every year of your studies. You also get access to our powerful (and Fordham-loyal) network of alumni, who want to see you succeed as they have.