Degree Options: Major, Minor
Locations: Lincoln Center, Rose Hill
Visit the Mathematics Department
Technologies come and go, but mathematics is eternal.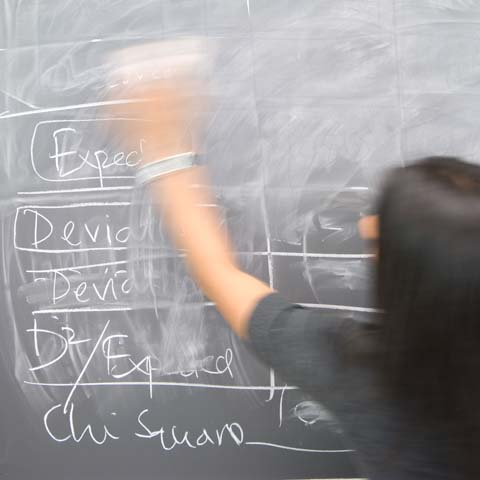 Mathematician. Computer scientist. Systems analyst. Economist. Math teacher. The career possibilities for a degree in mathematics from Fordham are vast. That's because an understanding of mathematical theory and application—in just the right academic blend—is essential to so many modern technical careers. These are timeless concepts with practical uses.
You will learn a wide spectrum of ideas, all of them based in the art of logical reasoning and clear expression. You'll learn math's vast applicability, from describing the universe to making informed financial analysis. In the process you'll come to understand not only the many uses of mathematics, but its sheer beauty.
You'll learn more than mathematics here. You'll also study philosophy, theology, literature, languages, ethics, science, and the performing arts through Fordham's common core curriculum, the centerpiece of our liberal arts education.
We want you to excel in your field—and as a human being.
As a BS student in mathematics, you take at least 13 classes, including two from the physics or computer science departments. There are two tracks:

Pure Mathematics
Applied Mathematics

We also offer:

Math education program leading to a master's degree in teaching in five years
Interdisciplinary mathematics and economics major, offered in partnership with the economics department

Study Abroad

Find ways to immerse yourself in mathematics as it's being studied around the world through Fordham's International and Study Abroad Program.

Multivariate Calculus
Linear Algebra
Differential Equations
Discrete Mathematics
Numerical Analysis
Honors Business Math
Cryptography
Mathematical Ethics Practicum
Topology

You'll graduate with a mathematics degree well prepared for a range of challenging career paths or advanced study in:

Math
Economics
Computer Science
Business
Law

Some positions our graduates hold:

Computer systems analyst, Department of Defense, Edwards AFB
Information systems manager, Hewlett-Packard
Mathematical economist, Department of Commerce
Software developer, Customer Insight
Math data analyst, Goddard Space Flight Center
Biostatistician, Indiana University Medical Center
Systems engineer, Electronic Data Systems
Aquatic toxicology lab manager, ITT Corp.
Associate financial analyst, Morgan Stanley & Co.

Our career services tap Fordham's ties with more than 3,500 companies. We offer:

Post-graduation career search
Resume development, Interviewing practice
Networking skill development
Hands-on case-study sessions with industry executives
Field-specific advising/coaching

You also get access to our powerful (and Fordham-loyal) network of alumni, who want to see you succeed as they have.