Communication and Culture
Degree Options: Major, Minor
Locations: Lincoln Center, Rose Hill
Visit the Communication and Media Studies Department
As human beings, we have a natural drive to communicate. But do we understand the true impact of what we say and how we say it?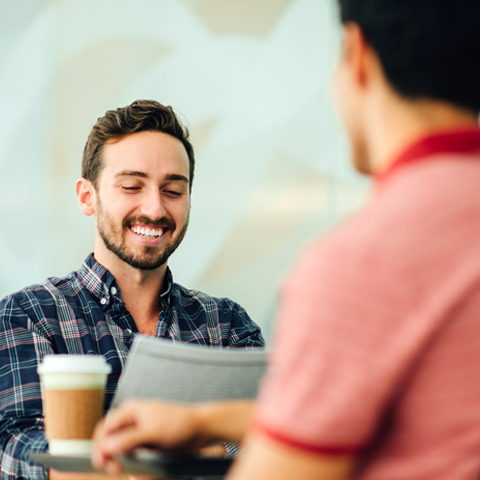 Advances in media technology always influence the way we communicate; but even as things change, fundamental aspects of communication and culture remain the same.
The Communication and Culture program at Fordham takes an interdisciplinary approach to the study of human and mediated communication. Drawing from both the humanities and the social sciences, you'll explore the many ways in which communication both shapes and reflects the human experience.
Combining theory and practice, our program builds a bridge between academic concepts and everyday situations. You'll learn the strategic application of communication theory, tools and techniques.. You'll examine the powerful economic and political role of the media in today's world. And you'll reflect upon the great responsibility that comes with the power of mediated communication.
Our faculty members are a dynamic mix of media scholars and industry leaders who serve as models of critical dialogue. We emphasize values and ethics in various settings, including public interest, government, NGO, and corporate cultures.
But you'll learn more than communications here. You'll also study philosophy, theology, history, mathematics, languages, and the performing arts through Fordham's common core curriculum, the centerpiece of our liberal arts education.
Internships

Our students take advantage of New York City's thriving media industry through experiential learning, internships, and service learning. Some recent internship locations include:

Agentry PR
Brandlink Communications
Bayern-Munich
Calvin Klein
Michael Kors
Sony Music

Fordham's Career Services office gives students access to CareerLink, a database of thousands of job and internship opportunities.

Facilities

The Edward A. Walsh Digital Media Laboratory at our Rose Hill Campus and our Collaborative Learning Space at Lincoln Center support teaching, research, and production in new media, networking, and media convergence.

Designed for faculty, graduate, and undergraduate students
Mac-based computers
HD digital cameras
Classroom for group instruction
Workroom for individualized projects and research
Production area for video, audio, and multimedia

Research

At the Donald McGannon Communication Research Center, media scholars cast a critical eye on media performance, policy, management, and ethics to understand how to sustain a media system that functions with commercial interests while serving the public interest.

On-Campus Media

Gain practical experience on campus at:

Study Abroad

Study abroad enriches you academically, culturally, and personally. There is a globe of possibilities available through Fordham's International and Study Abroad Program.

Strategic Communication
Fashion as Communication
Race, Class, Gender and Media
Media and the Environment
Freedom of Expression
Persuasion and Public Opinion

No matter your industry, it is important to express yourself clearly, be technologically savvy, and listen to what others have to say. The skills you learn in the Communication and Media Studies department are useful professionally and personally.

Some of the companies and organizations our graduates have worked for include:

Alzheimer's Association (Marketing and Communication Coordinator)
Cynthia Rowley (E-Commerce Assistant)
Gerber Group (VIP and Events Coordinator)
Viacom (VH1 Public Relations Assistant)
Fordham University (Communications Assistant)

You don't just want a job—you want a career. Career Services taps into Fordham's ties with more than 3,500 companies. We offer:

Pre- and post-graduation career search assistance
Resume development
Interview practice
Networking skill development
Hands-on case-study sessions with industry executives
Field-specific advising/coaching

You also get access to our powerful (and Fordham-loyal) alumni network of talented professionals who want to see you succeed as they have.