Degree Options: Major, Minor
Locations: Lincoln Center, Rose Hill
Visit the Philosophy Department
Ask fundamental questions about the nature of reality—and learn to think.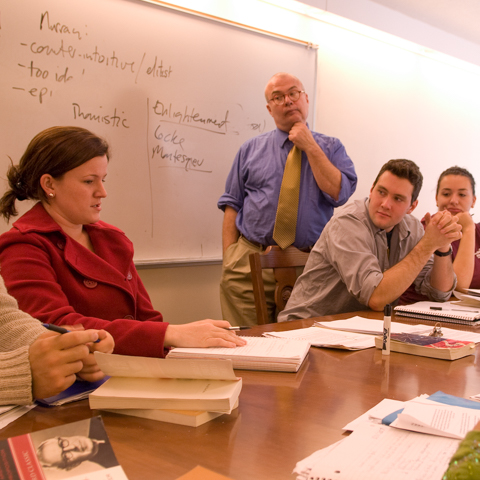 Philosophy holds a special role in Fordham's liberal arts tradition. With a long and distinguished history going back more than 150 years, the philosophy major combines intense academic rigor with profound reflection on the nature of reality and human existence. We train you in the depth of thought you need to pursue an enlightened life of responsible leadership and service.
We acquaint you with the intellectual and moral traditions of civilization to help you think clearly and carefully for yourself. Our course of study is pluralistic and broad-minded, and taught by faculty internationally recognized for their scholarship. You'll explore a wide variety of schools of thought, including contemporary philosophy (American, analytic, continental, environmental, feminist, Thomistic) as well as epistemology, ethics, metaphysics, philosophy of mind, and philosophy of religion.
You will question assumptions and critique principles. You'll see logic as a practice, analyze abstract conceptual relationships, and interpret difficult texts. And you'll develop the analytical, critical, and argumentative skills that employers and graduate schools in many fields seek in their future leaders. Example: a philosophy degree is one of the best preparations for law school.
But you'll learn more than philosophy here. You'll also study literature, theology, history, mathematics, languages, sciences, and the performing arts through Fordham's common core curriculum, the centerpiece of our liberal arts education.
We want you to excel in your field—and as a human being.
As a philosophy major, you take 10 classes covering a range of eras, traditions, and topics, including:

Ancient philosophy
Medieval philosophy
Classical modern 19th-century philosophy
Contemporary 20th-century philosophy
Metaphysics
Knowledge and method
Human nature
Moral, political, and social philosophy

Our five-year early admission MA program allows philosophy majors to attain both a bachelor's degree and a master's degree in philosophy in five years.

Fordham's Career Services offers CareerLink, database of thousands of job and internship opportunities exclusively for Fordham students.

Clubs, Events, Networks

Our faculty serve as officers of philosophical organizations and as editors of philosophical journals and book series. The department is home to three significant philosophical societies:

Society for Medieval Logic and Metaphysics
Nietzsche Society
Society for the Study of Process Philosophies

Undergraduate students publish their own journal, Sapientia et Doctrina.

We sponsor an annual lecture series that brings distinguished philosophers from around the world to campus.

We have a chapter of Phi Sigma Tau, the national honor society in philosophy.

Workshops and Reading Groups

Intellectual exchange and collaboration are at the heart of philosophical inquiry. That's why we host or participate in a range of workshops and reading groups where scholars and students delve into different philosophical traditions:

Early Modern Workshop
Fordham Epistemology and Ethics Workshops
Francophone Philosophy Reading Group
German Philosophy Group
Metaphysics and Mind Group
NYC Early Career Ethics Workshop
New York Pragmatist Forum
John C. and Jeanette D. Walton Workshops in Science, Philosophy and Religion
Women in Philosophy Reading Group
Latin Reading Group

Study Abroad

Study abroad enriches you academically, culturally, and personally. There is a globe of possibilities available through Fordham's International and Study Abroad Program.

Philosophical Ethics
What Are We: Philosophy of Human Nature
Art, Morality and Politics
Symbolic Logic
Problem of Evil
Philosophy of Pleasure
Enlightenment and Its Critics
Human Rights and Global Justice br />Kant and Hegel
African-American Philosophy
Native-American Philosophies
Existentialist Feminism
Issues of Life and Death
War and Peace: Just War Theory

The major in philosophy is an excellent preparation for graduate schools and careers that call for superior critical thinking, writing, and research skills, including:

Law
Medicine
Education
Ministry
Journalism
Publishing
Politics and public policy
Public relations
Fundraising and nonprofit work
Business and management
Art and architecture

Get a job, right? Yes, but you want more: a career. Our career services tap Fordham's ties with more than 3,500 companies. We offer:

Post-graduation career search
Resume development, Interviewing practice
Networking skill development
Hands-on case-study sessions with industry executives
Field-specific advising/coaching

You also get access to our powerful (and Fordham-loyal) alumni network, who want to see you succeed as they have.
Learn More About the Philosophy Degree