Degree Options: Major, Minor
Locations: Lincoln Center, Rose Hill
Visit the Environmental Studies Department
Who speaks for Earth? With a degree in environmental studies from Fordham, you can.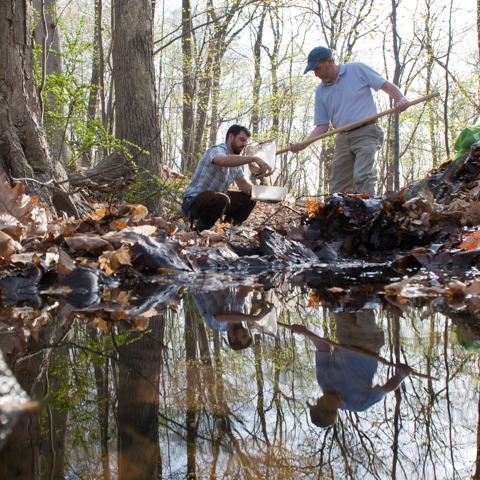 Our program explores the intersection of the natural sciences, social sciences, and humanities.
The goal: to explore the causes, effects, and policy solutions to environmental problems that we all face—and we all must address. Our mission reflects Fordham's: to respect the environment and serve the greater good. We stress environmental literacy, stewardship, sustainable development, and environmental justice.
You'll learn the complex scientific, economic, political, and ethical interactions and processes that create our home on Earth. You'll study in New York City, one of the most vibrant centers of environmental education and urban ecology in the world. Fieldwork can take you around the globe.
You'll learn more than environmental studies here. You'll also study philosophy, theology, history, mathematics, languages, literature, and the performing arts through Fordham's common core curriculum, the centerpiece of our liberal arts education. We want you to excel in your field—and as a human being.
The environmental studies major has many specialized Concentration Career Tracks involving electives, professional internships, study abroad, and thesis research:

Conservation Biology
Environmental Law
Environmental Economics & Sustainable Business
Environmental Politics and Government
Green Architecture and Urban Planning
Environmental Journalism
Environmental Education K-12
Public Health and the Environment
Organic Agriculture and Food Security
Parks and Recreation
Environmental Organizations
Environmental Philosophy, Religion and Ethics
Environmental History and American Studies
Environmental Art and Literature

Facilities

At the Calder Center Biological Field Station, a 113-acre expanse of forest, lakes, and wetlands in nearby Armonk, NY, you can take ecology classes and conduct field research alongside a selected number of biologists who focus on water management and conservation for government and industry.

At the Center for Urban Ecology, you can study the intersection of nature and the city with scientists researching the impact of urbanization on regional ecosystems and the role people play in physiological, ecological, and evolutionary processes.

Local fieldwork

St. Rose's Garden, an urban organic agricultural project and outdoor classroom on the Rose Hill Campus
Community Supported Agriculture project, which brings food to the campus from local organic farmers
Campus Sustainability Program, a Fordham-wide initiative to minimize our environmental impact and pursue best practices in sustainability

Academic Internships

Gain professional experience and academic credits in environmental organizations such as:

Bronx River Alliance (New York Department of Parks)
Wildlife Conservation Society (Bronx Zoo)
New York Botanical Garden
American Museum of Natural History
Environmental Consortium of Hudson River Colleges and Universities

Paid Summer Internships are available throughout the U.S. and the New York City area:

Fordham University Louis Calder Center
Cary Institute of Ecosystem Studies
Mohonk Preserve
Mianus River Gorge Preserve
NYC Department of Environmental Protection
NYC Department of Parks
Environment America
Washington Internship Institute
Center for American Progress
League of Conservation Voters

Study Abroad

Environmental studies are widely available throughout the globe. Fordham's International and Study Abroad Program has dozens of possibilities in Central America, Africa, Australia, Europe, and Southeast Asia.

A few options:

Sustainability in Europe in Denmark
Tropical ecology and conservation in Costa Rica
Coastal ecology in Tanzania
Amazon resource management and cultural ecology in Brazil
Environmental studies in China

Chemistry of the Environment
Global Ecology
Basic Macroeconomics
North American Environmental History
Maritime Cities
History of Capitalism
History of Climate Change
Animal Rights Literature and Film
Tropical Ecology
Environment: Science, Law, and Policy

It's as big world. How will you change it? Our alumni work in a wide range of government, private, and nonprofit industries around the globe.

Our Alumni Career Advisory Board will be a constant resource during every year of your studies.

Some fields our graduates work in:

Environmental law
Environmental policy
Sustainable business
Urban planning
Conservation biology
Organic agriculture
Food policy
Sustainable development
Environmental journalism

Many have gone on to study at prestigious graduate programs at Yale, Columbia, and the London School of Economics. Others have studied environmental law programs at Pace, Fordham, and Vermont.

You also get access to our powerful (and Fordham-loyal) network of alumni, who want to see you succeed as they have.