Degree Options: Major, Minor
Locations: Lincoln Center, Rose Hill
Visit the Undergraduate Program in Medieval Studies
The impact of Europe's Middle Ages can still be felt today. Explore this historical era in a modern city.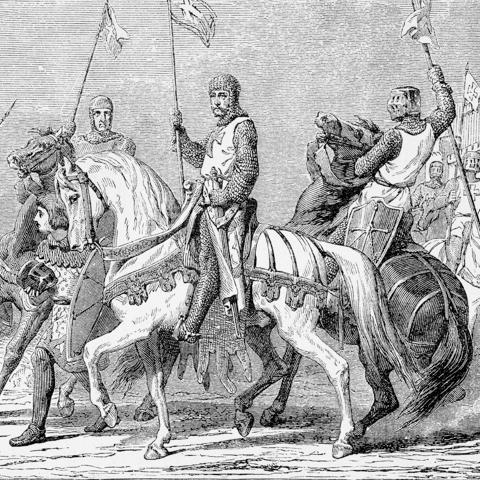 The Middle Ages produced a profound array of art, music, philosophy, religion, and culture that still influence us today. As a medieval studies major at Fordham, you'll explore the legacy of this crucial historical period in Europe through an interdisciplinary course of study offered by the Center for Medieval Studies, one of Fordham's most active, well-known centers of advanced scholarship.
You'll study the full sweep of artistic, literary, scholastic, and cultural issues that make medieval civilization such a rich field of study, drawing on the expertise of faculty in a range of fields. You'll read Cervantes, Dante, Augustine, and Aquinas. You'll learn about martyrs and madmen, nuns and Vikings, Byzantine art and Islam's impact on Spain.
And you'll graduate ready for a career or advanced study in the field.
New York City offers enormous resources for the budding medievalist, including rich collections at the Metropolitan Museum of Art, New York Public Library, Morgan Library, and the world-famous Cloisters, assembled right above the Hudson River with architectural elements from different medieval buildings.
But you'll learn more than medieval studies here. You'll also study philosophy, theology, literature, languages, ethics, mathematics, science, and the performing arts through Fordham's common core curriculum, the centerpiece of our liberal arts education.
We want you to excel in your field-and as a human being.
As a medieval studies major, you take 10 classes from seven departments:

Art History and Music
Classics
English
History
Modern Languages and Literatures
Philosophy
Theology

Facilities

The Center for Medieval Studies is the heart of our program, but there are many other rich resources for medievalists.

Walsh Library has a strong medieval collection available at the Paleography Room, Archives Room, and the O'Hare Special Collections.
New York City offers easy access to strong collections of medieval materials at the Morgan Library, New York Public Library, The Cloisters, and the Metropolitan Museum of Art, among other institutions.

Resources

We publish Traditio, an international journal dedicated to the study of ancient and medieval history, thought, and religion. Twice a year we put out Medievalia Fordhamensia, a newsletter covering events, lectures, new faculty, grant awards, and more.

We also host multiple websites with many academic resources, from full texts to comprehensive bibliographies, including:

Internet Medieval Sourcebook
French of England
French of Italy
French of Outremer
Medieval Sources Bibliography
Latin Works of John Wyclif
Society for Beneventan Studies

We offer many activities throughout the year, including lecture series, annual conferences, and social events.

Study Abroad

Our department offers study abroad programs to deepen your understanding of the middle ages.

Medieval Studies courses at Fordham's London campus at Heythrop College (University of London)
A Medieval Summer in London program
Study Tour: Spain, which walks along the last 200 miles of the pilgrimage route to Santiago de Compostela

You can find many other opportunities through Fordham's International and Study Abroad Program.

Galleries. Museums. Universities. Graduate schools. Publishing houses. Our medieval studies students find themselves in a range of cultural settings. But they have one thing in common: they're well prepared for professional careers that require cultural awareness and critical thinking.

Our career services tap Fordham's ties with more than 3,500 companies. We offer:

Post-graduation career search
Resume development, Interviewing practice
Networking skill development
Hands-on case-study sessions with industry executives
Field-specific advising/coaching

You also get access to our powerful (and Fordham-loyal) network of alumni, who want to see you succeed as they have.

Arthurian Literature
Medieval Women Writers
Cervantes and Don Quixote
Confessions of Augustine
Martyrs, Monks, and Madmen
Music Before 1600
Old French
Intermediate Latin
Vikings and Values
Study Tour: Medieval Italy
Study Tour: El Camino de Santiago
Learn More About the Medieval Studies Degree