Degree Options: Major, Minor
Locations: Lincoln Center, Rose Hill
Visit the English Department
Intellectual rigor meets creative expression in the English major at Fordham.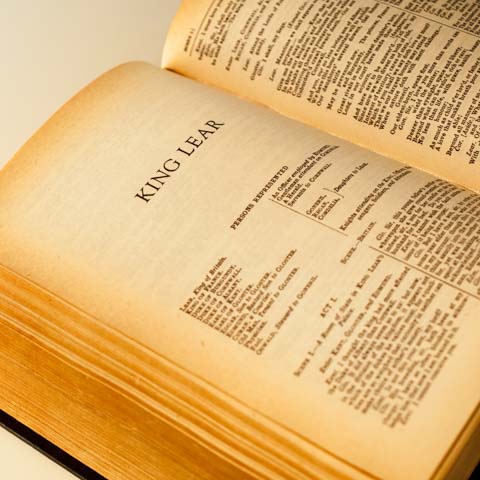 Chaucer's squire struggled to find the words to describe the sublime beauty of a princess in a far-off land. But Chaucer didn't. Writers capture on the page the complexity of human experience. Learn how literature has evolved—and tell your own tales—in the English major at Fordham.
You will delve into a comprehensive survey of English literature to critically interpret texts and understand the principles of effective writing. You'll contribute to our literary journals and talk shop with leading literature scholars. And you'll do it all in New York City—the publishing capital of the world.
Of course, you'll learn more than English here. You'll also study philosophy, theology, economics, mathematics, languages, science, and the performing arts through Fordham's common core curriculum, the centerpiece of our liberal arts education.
We offer an English major, a concentration in creative writing, a literature minor, and a creative writing minor.

You will learn the rules, structures, and historical context of the English language as they've evolved during more than 1,200 years—and, when necessary, how to break those rules in the service of creative expression.

English Connect is a department-specific microsite where you can find the latest info on events, publications, and workshops.

Our Writing Center tutors provide instruction, not correction. We help you develop the tools to become a better writer. We work with you on logical, rhetorical, and grammatical issues at any stage of an assignment.

Literary Journals

Publish in one of our department's creative and scholarly journals—essential components of our vibrant intellectual environment that have international visibility.

19th-Century Music
CURA: A Literary Magazine of Art and Action
Joyce Studies Annual
Studies in American Fiction
Rhētorikós: Excellence in Student Writing
Traditio: Studies in Ancient and Medieval Thought, History, and Religion

Initiatives

The love of the word binds us together. We have many literature-oriented initiatives launched by our scholars, readers, and writers:

History of a Book Seminar
Kundiman Asian American poetry retreat
New York City Romanticism Group
Poets Out Loud
Reid Writers of Color Reading Series

We offer honors programs for ambitious wordsmiths in literature and creative writing.

Internships

As the publishing and media capital of the world, New York City offers many opportunities for internships. Recent internships have included:

The Public Theater
Marvel Publishing
The Daily Beast
The Colbert Report
Rolling Stone
Art+Auction
Harper Collins
The New York Times
Waxman Literary Agency

Study Abroad

Study abroad enriches you academically, culturally, and personally. There is a whole globe of study abroad possibilities available through Fordham's International and Study Abroad Program.

Theories of Comparative Literature
Love in the Middle Ages
Captives/Cannibals/Rebels
The Rise of the Novel
Oscar Wilde
Modern Catholic Writers
Fiction Boot Camp
Poetry Writing: Architecture and the Sky
Writers' Workshop: Experimental Writing for Non Experimental Writers

Interested in graduate school? Our rigorous curriculum will prepare you for advanced study.

We prepare you for a wide range of careers in:

Writing
Publishing
Media
Teaching

Our career services tap Fordham's ties with more than 2,600 companies. We offer:

Post-graduation career search
Resume development, Interviewing practice
Networking skill development
Hands-on case-study sessions with industry executives
Field-specific advising/coaching

You also get access to our powerful (and Fordham-loyal) network of alumni, who want to see you succeed as they have.
Learn More About the English Degree