Degree Options: Major Only
Locations: Lincoln Center, Rose Hill
Visit the Mathematics and Economics Department
Math + Economics = a challenging, interdisciplinary degree that will impress recruiters and graduate schools.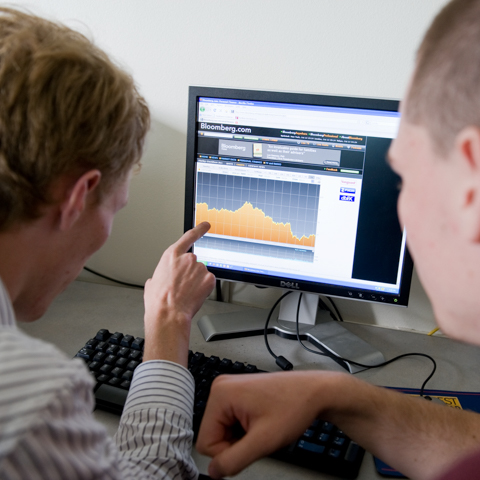 Can you do the math? As an interdisciplinary math and economics major at Fordham, you will. Our program gives you an excellent background in modern economic theory that's solidly grounded in the mathematical principles you need to know to fully understand economic analysis.
Offered jointly by the departments of economics and mathematics, it's a highly challenging course of study that fosters careful reasoning and abstract formulations. To put it plainly, you must be smart to be here. You'll study a heady mix of complex math and economic theory. And you'll graduate with a degree that stands out on job and school applications.
You'll learn more than interdisciplinary math and economics here. You'll also study philosophy, theology, literature, languages, ethics, science, and the performing arts through Fordham's common core curriculum, the centerpiece of our liberal arts education.
We want you to excel in your field—and as a human being.
You will take 11 required classes and four electives in:

Math
Economics
Statistics

Study Abroad
Find ways to immerse yourself in math and economics as they're being studied around the world through Fordham's International and Study Abroad Program.

Macroeconomic Analysis
Microeconomic Theory
Multivariate Calculus
Linear Algebra
Statistical Decision Making
Discrete Mathematics

You'll graduate with an interdisciplinary math and economics degree well prepared for a range of challenging career paths or advanced study. The major's high degree of difficulty appeals to business recruiters and admissions officers.

Some positions our graduates hold:

Financial analyst, Hewlett-Packard
Actuarial assistant, Aetna Life and Casualty Co.
Mathematical economist, Department of Commerce
Actuary, GEICO
Math data analyst, Goddard Space Flight Center
Associate financial analyst, Morgan Stanley and Co.
Tax associate, PricewaterhouseCoopers

They often attend graduate school for:

Our career services tap Fordham's ties with more than 3,500 companies. We offer:

Post-graduation career search
Resume development, Interviewing practice
Networking skill development
Hands-on case-study sessions with industry executives
Field-specific advising/coaching

You also get access to our powerful (and Fordham-loyal) network of alumni, who want to see you succeed as they have.