Degree Options: Major, Minor
Locations: Rose Hill, Lincoln Center
Visit the Psychology Department
Psychology is where the science of human nature meets the service of others.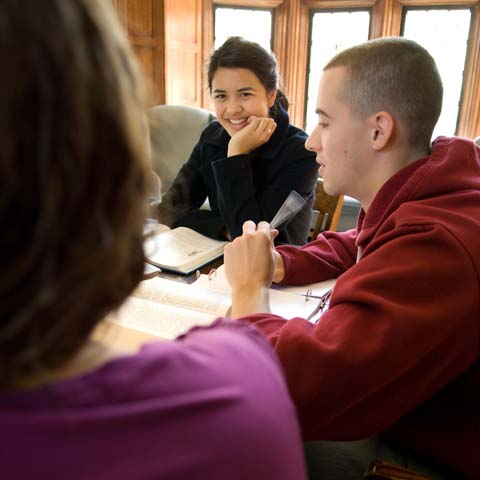 What makes us tick? After a century of psychological science, we have some answers. But many questions remain too. In the Department of Psychology at Fordham, we emphasize critical thinking—and high expectations—as we challenge you to think scientifically about human behavior.
Our comprehensive and structured curriculum immerses you in the core processes of psychological science, from basic to complex. Learn to differentiate between an observation and a conclusion, evaluate research methods, explore cross-cultural differences, and understand the key role psychology can play in the service of others.
Through classroom instruction, adviser guidance, student research, and service learning, you will explore human nature, ponder questions of values and ethics, and begin to have an impact on the most marginalized members of society.
You'll learn more than psychology here. You'll also study philosophy, theology, history, mathematics, languages, science, and other performing arts through Fordham's common core curriculum, the centerpiece of our liberal arts education.
We want you to excel in your field—and as a human being.
As a psychology major, you will:

Study the breadth and depth of psychology
Participate in research projects
Develop field experience
Collaborate with experts in the field

Research Opportunities

We see research as essential to your psychology education. That's why we embed research opportunities into required coursework, electives and independent study.

A few topics you will explore in lab research:

Cognition
Memory
Infant and child development
Biological psychology
Research methods

Our professors are involved in diverse research projects, and they often seek assistance from interested and committed students seeking training and experience.

Internships

Our internships are credit-earning academic fieldwork. Two examples:

Community Psychology (Bronx Psychiatric Center, New York Hospital, and others)
Clinical Child Psychology (Bronx Children's Center, Astor Day Care, and others)

Service-Learning Interdisciplinary Seminar

We emphasize psychology in the service of others. This seminar integrates your growing knowledge of psychological processes with your developing set of values and beliefs.

The Center for Service and Justice offers many opportunities.

Multicultural and Diversity Resources

We integrate multicultural issues into psychological research, education, and clinical training to provide you with the knowledge to recognize our cultural, and individual diversity

A local chapter of Psi Chi, the International Honor Society of Psychology, offers on-campus lectures, presentations, and workshops.

So does the Psychology Club, a student-run group that hosts a range of events for psychology students throughout the year.

Study Abroad

Take your education abroad. Fordham has connections with more than 150 programs in universities all over the world, including Germany, China, Turkey, Argentina, and the Gabelli London satellite campus.

Sensation and Perception
Death/Dying Life/Living
Reasoning Lab
Men and Masculinities
Consumer Behavior
Urban Psychology
Trauma and Family Violence
Law and Psychology
Psychology of Music

Our undergraduate major in psychology will equip you to compete into the career world or be an impressive candidate for graduate degree programs.

A few of the many possible career paths:

Clinical psychologist
Biostatistician
Neuropsychologist
Sports or health psychologist
Guidance counselor
Special education
Human resources, marketing, and communications

You also get access to our powerful (and Fordham-loyal) network of alumni, who want to see you succeed as they have.