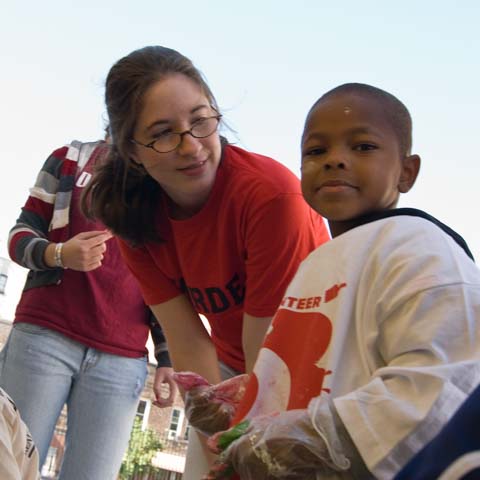 Degree Options: Major
Locations: Lincoln Center, Rose Hill
Visit the Sociology and Anthropology Department
To be human is to be with humans. Sociology explores the dynamics of group life.
Aristotle called us "social animals." And he was right. We humans are defined by our connections to (and reliance on) each other. As a sociology major at Fordham, you'll study group life—the complex social and cultural world that shapes human experience, from the dynamic of two strangers passing on a city street to current trends in globalization.
Sociology combines scientific and humanistic approaches to study the diversity of social relationships in our modern world. You'll study urban and rural life; family patterns and relationships; social change and movements; inter-group relations; social class, environment, culture, and communications; and community responses to disasters—both natural and created. Through the careful analysis and evaluation of social phenomena, you'll develop excellent critical thinking and research skills that will prepare you for graduate school or the professional world.
We believe sociology can improve the quality of people's lives by promoting awareness of the inequalities—race, class, gender, religion, citizenship, sexuality—so common across the globe. Sociological knowledge can make a difference in homes, communities, and countries.
You'll learn more than sociology here. You'll also study philosophy, theology, history, mathematics, languages, science, and the performing arts through Fordham's common core curriculum, the centerpiece of our liberal arts education.
We want you to excel in your field—and as a human being.
As a sociology major, you'll take up to 10 courses in a variety of subjects, including:

criminal justice
urban issues
social institutions (educational, economic, religious, familial)
social inequities (class, race, ethnicity, gender)

Early Admission to Master's Program

Academically strong students can earn a master's degree in sociology one year after completing their bachelor's. Take up to three classes your senior year that simultaneously fulfill your undergraduate elective requirements and count towards your master's degree.

Internship Seminar

We connect you with internships in New York City, where the diverse population and wide range of public and private institutions offer a rich array of human experience.

You'll spend 8–10 hours each week working with agencies, corporations, and institutions in both the public and private sector, including:

New York State Department of Corrections
Legal Aid Society
Puerto Rican Family Institute
CBS
Merrill Lynch
IBM

You'll gain skills in:

social analysis
policy development
program evaluation
interpersonal relations

Study Abroad

We enthusiastically encourage you to venture abroad for your sociology education. There is a globe of possibilities available through Fordham's International and Study Abroad Program.

Inequality: Class, Race, and Ethnicity
Religion and Social Change
Social Deviance
The 60s: Sex, Drugs, and Rock & Roll
Politics of Reproduction
The United Nations, Women & Youth
Sociology of Work
Coming of Age: Adulthood
American Criminal Justice Systems
Contemporary Immigration in Global Perspective
International Sociology
Prison, Probation, Parole

Sociology prepares you for a wide variety of careers that hinge on an understanding of group dynamics. In many professional schools, courses in sociology are part of the required training. You'll graduate ready to pursue a career or graduate school in:

social research
criminology
demography
social psychology
counseling
mental health services

It's also highly relevant for:

social work
law enforcement
public administration
gerontology
education
rehabilitation social work
market research
environmental policy

And it provides a useful background for those planning to enter:

law
business
medicine
international affairs
community planning
architecture
politics
communications
human resources

You get access to our powerful (and Fordham-loyal) network of alumni, who want to see you succeed as they have.