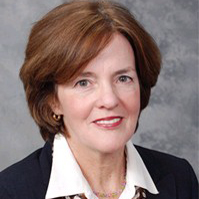 Eileen Walsh has been with KPMG for more than 35 years and serves as the partner in charge of the firm's School of Business–Audit function, reporting directly to the U.S. vice chair of audit. She is responsible for the audit technical curriculum and oversees a team that designs, develops, measures, and delivers training to more than 9,000 audit professionals.
Prior to this assignment, Walsh was a global insurance audit lead partner in the New York office serving a diversified insurance client base. She has extensive experience both locally and globally with the insurance market, having served a wide variety of SEC multinational registrants. Her years of experience and reputation for delivering quality audits is a skill set that is pivotal in her present position.
Walsh graduated magna cum laude with a Bachelor of Science degree from Fordham University's Gabelli School of Business and now sits on the Advisory Board. She is a member of the AICPA, NYSSCPA, and NJSCPA. She served on the International Accounting Education Standards Board from 2009 through 2014, acting as the task force lead for the revision of the International Education Standard No. 8 (IES8, Professional Competence for Engagement Partners Responsible for Audits of Financial Statements). Walsh also serves as a member of the Business Higher Education Forum, representing the chair of KPMG International. The forum's mission is to promote innovation and enhance U.S. global competitiveness; its members, who include Fortune 500 CEOs, college and university presidents, and other leaders, work together to shape the national agenda for business and higher education through regional and national initiatives, formal gatherings, and advocacy and research.
Walsh and her husband reside in Irvington, N.Y.