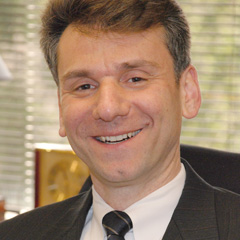 J. Spero Zacharias, senior vice president of Chubb & Son Inc., is the manager of international field operations for its Accident and Health Division. He is responsible for Chubb's accident and health businesses in 26 countries outside of the United States.
He serves as chairman of the 20/20 Strategy and Advisory Committee at the Association for Cooperative Operations Research and Development (ACORD), the insurance industry's data-standards setting body. He is also a member of ACORD's Standards Committee and previously served as chairman of its Property and Casualty Steering Committee.
Prior to holding his present position, Zacharias served as international field operations manager for Chubb's Operations Services Division, where he led the business-support organization across 26 countries and designed and implemented service-delivery models for Chubb's non-U.S. offices. Zacharias also has held positions in corporate services and e-business management. He has served as chief operations director in Latin America and chief marketing officer in New York.
During his 25 years at Chubb, Zacharias has held leadership positions that include responsibilities for P&L management, marketing, information technology, and operations management. His marketing experience includes distribution management in six Latin American countries and the United States.
As a member of the Gabelli School of Business Advisory Board, Zacharias serves alongside CEOs, CFOs, and COOs across several industries and works closely with faculty, University administration, and students.
He holds an MBA from Fordham with dual concentrations in finance and management and a BA from the University of North Carolina at Chapel Hill in international studies. Zacharias has taught marketing at Fordham as an adjunct instructor and has participated in the business school's AACSB accreditation process.
Zacharias is fluent in English, Spanish, and Greek.