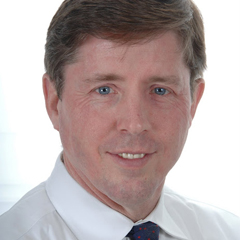 Kevin P. Meenan is managing partner of Orca Asset Management LLC, a consulting firm that provides technology-related solutions to a range of organizations, including schools and nonprofits. Meenan also is active in recruiting for the National Association of Corporate Directors.
Meenan has a 35-year record of both growing and starting successful businesses, mostly focused on the credit sector on the "sell side" of Wall Street. He launched his Wall Street career at Marsh & McLennan, where he was an insurance broker-analyst for three years. He then joined Salomon Brothers, leaving that firm's back office to join its mortgage-trading desk as a trader during the "Liar's Poker" period, a time of explosive growth. Meenan subsequently moved to Citibank, where, in the late 1980s, he led a team that built out the world's first fully dedicated secondary trading desk for broadly syndicated loans. After Citibank, he co-founded a firm called Meenan, McDevitt & Company LLC, which Société Générale later bought.
Meenan accepted an offer from a fellow Cardinal Hayes High School alumnus to join Keefe Bruyette & Woods as co-head of the fixed income division. Part of his work there was rebuilding the firm, whose offices were destroyed in the 2001 World Trade Center disaster, and whose co-CEO and five of nine board members were among 67 employees killed. He remained with Keefe Bruyette & Woods until 2007, when he left to start a new hedge fund investing in the equity tranches of collateralized debt obligations; he was forced to close the fund because of the financial crisis in 2008. Shortly thereafter, Meenan was asked to create a high-yield and loan-trading business at the broker/dealer affiliate of Bank of Tokyo Mitsubishi, the largest bank in Japan.
Meenan and his wife, Marianne, both grew up in the Bronx and came from families of five siblings each. Meenan attended Fordham College at Rose Hill, where he earned a BA in medieval studies, and then earned his MBA from Fordham at night. Meenan and his wife raised their three sons, all of whom attended Boston College, in Chappaqua, N.Y.