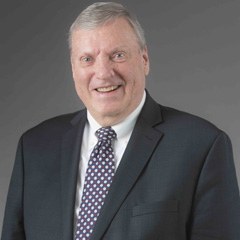 Bill Chess is part of a team that is forming a public policy conglomerate, Public Policy Holding Company, in Washington, D.C. The group will include numerous firms specializing in public-policy processes such as lobbying, polling, public affairs, grassroots/key influencers, digital influence, and campaign/issues management.
Chess retired in 2010 from Ogilvy Public Relations Worldwide, where he was the chief operating officer. In this position, he had responsibility for worldwide administrative functions and operations. He was a member of the corporate staff, located in New York, and was a member of the firm's executive committee and management committee.
Ogilvy Public Relations is one of the 10 largest multinational public relations firms with 85 offices worldwide. It is a member of the Ogilvy family of companies. The Ogilvy Group is a wholly owned subsidiary of WPP, PLC, which is the largest marketing communications company in the world, with 170,000 employees in 349 companies based in more than 3,000 offices in 110 countries.
Chess began his career in financial operations with Unilever's Lever Brothers Co. in New York. During his tenure with Unilever, he held a number of financial positions of increasing responsibility, eventually becoming controller of Lever Brothers Co. and then financial vice president of Lever's Foods Division.
Unilever is one of the world's leading fast-moving consumer goods companies. Its products are sold in more than 190 countries and, on any given day, 2 billion consumers worldwide use them.
Prior to starting his business career, Chess served as an air-traffic controller in the U.S. Air Force.
Chess holds an MBA in finance from Fordham University and is a member of the Gabelli School's Advisory Board. He has served the University in an advisory capacity for almost 20 years.
Chess previously served as a member of Marist College's advisory board for its School of Global and Professional Programs, as a member of the Flame of Charity Board to aid Catholic Charities with fundraising in the Metuchen Diocese, and as a member of the board of directors of the Nonprofit Coordinating Committee of New York, an umbrella membership and service organization for more than 1,700 nonprofits in the New York City area.
Chess and his wife, Betsy, have three married children and eight grandchildren.