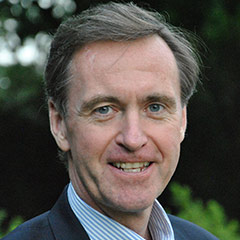 CommonSpirit Health, Vice Chair of the Board; Author and Philanthropist
Chris Lowney is a graduate of Fordham University, where he also received his M.A. He is an adjunct professor at the Gabelli School of Business and has co-taught a course on leadership. Students in the course focus on perseverance, coaching, empathy, setting goals, self-awareness, and purpose.
Lowney is vice chair of the board of CommonSpirit Health, America's largest nonprofit health system. He is a one-time Jesuit seminarian and later served as a Managing Director of J.P. Morgan & Co on three continents.
His efforts in philanthropy and social entrepreneurship have included helping to launch an innovative collaboration to offer online university education in refugee camps in Africa and elsewhere. He also founded Pilgrimage for Our Children's Future, which supports education and healthcare projects among severely impoverished, marginalized communities.
He is the author of several books including Make Today Matter: 10 Habits for a Better Life and Heroic Leadership: Best Practices from a 450-Year-Old Company that Changed the World.