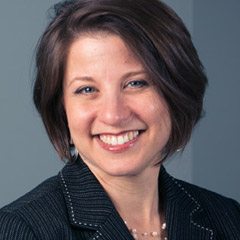 Professor & Executive Director, Center for Positive Marketing
Special Advisor to the Provost on Strategy
Joined Fordham: 2000
General Information:
140 W. 62nd Street, Room 454,
New York, NY 10023
Email: [email protected]
Website: www.centerforpositivemarketing.org
Dawn Lerman focuses on the field of consumer behavior with particular emphasis on consumer language processing. Her work has been published in a variety of academic journals and books and has been presented at both academic and industry conferences. She is also a member of the editorial board for the Journal of Business Research andInternational Marketing Review.

Prior to joining Fordham, Dr. Lerman served as a press attaché in the public relations department of a major political lobby in Paris and as a marketing and business development analyst at The Ferolie Group, a leading New York-area food broker. While at Ferolie, Dr. Lerman managed a number of major brands manufactured by corporations such as Van Den Bergh Foods, Kraft, Apple & Eve, McCormick and the James River Corporation, and she played a key role in a variety of new product introductions.

More recently, Dr. Lerman has served as a consultant in areas related to market research, new product introductions, branding and marketing strategy development. She also conducts in-house seminars on topics ranging from linguistic considerations in brand communications to the branding of industrial products.

Ph.D.: Business, Baruch College (CUNY)
Master's: M.B.A. in Marketing and International Business, New York University; M.Phil. in Business, Baruch College, CUNY
Bachelor's: B.A. in French Language and Literature, Brandeis University

The role of language in marketing and consumer behavior
Psycholinguistic, sociolinguistic and cultural approaches to branding, advertising, and the consumer experience
Bilingualism and cross-cultural aspects of language processing within a consumer context

Morais, Robert and Dawn Lerman (2020), "The Brand Language Brief: A Pillar of Sound Brand Strategy," Journal of Brand Strategy, 8 (3), 265-281.
Lerman, Dawn and Santiago Meja (2018), "Positive Marketing, Virtue and Happiness," in The Routledge Handbook of Positive Communication, José Antonio Muñiz Velázquez and Cristina M. Pulido, eds, New York, Routledge.
Lerman, Dawn, Robert Morais and David Luna (2017), The Language of Branding: Theory, Strategy and Tactics. New York: Routledge.
Carnevale, Marina, David Luna and Dawn Lerman (2017), "Brand Linguistics: A Theory-Driven Framework for the Study of Language in Branding," International Journal of Research in Marketing, 34 (2), 572-591.
Kachersky, Luke and Dawn Lerman (2013)"Reframing Marketing: Bridging the Gap Between Marketing's Intentions and Lay Perceptions," Journal of Consumer Marketing, 30 (7) , 544-552 .
Carnevale, Marina, David Luna and Dawn Lerman (2013), "Does Brand Spelling Influence Memory? The Case of Auditorily Presented Brand Names," Journal of Consumer Psychology. 23 (1), 36-48.
Shrum, L.J., Tina Lowrey, David Luna, Min Liu, and Dawn Lerman (2012), "Sound Symbolism Effects Across Languages: Implications for Global Brand Names."International Journal of Research in Marketing, 29 (3), 275-279.
Kabadayi, Sertan and Dawn Lerman (2011), "Made in China But Sold at FAO Schwarz: Country of Origin Effects and Trusting Beliefs," International Marketing Review, 28 (1), 102-126.
Scelzo, Tracy and Dawn Lerman (2009), "Little Emperors Grown Up: A Case Study of Cosmetic Usage," 10 (2), Young Consumers, 110-119.
Lerman, Dawn, Rachel Maldonado, and David Luna (2009) "A Theory-Based Measure of Acculturation: The Revised Cultural Life Style Inventory," 62 (4), Journal of Business Research, 399-406.
Lerman, Dawn B. (2007), "Phonology, Morphology, and Semantics: Towards a Fuller Conceptualization of Brand Name Meaning," Tina M. Lowrey (ed.), Psycholinguistic Phenomena in Marketing Communications, Mahwah, NJ: Erlbaum.
Sen, Shahana and Dawn Lerman (2007), "Why Are You Telling Me This? An Examination into Negative Consumer Reviews on the Web," Journal of Interactive Marketing, 21 (4), 76-94.
Lee, Julie Ann, Ellen Garbarino and Dawn Lerman (2007), "The Interaction of Country Level Uncertainty Avoidance and Product Uncertainty on Consumer Perceptions,"International Marketing Review, 24 (3), 330-349.
Lerman, Dawn (2006), "The Relationship Between Consumer Politeness and Complaining Behavior," Journal of Services Marketing, 20 (2), 92-100.
Luna, David, Dawn Lerman, and Laura Peracchio (2005), "Structural Constraints in Code-Switched Advertising," Journal of Consumer Research, 32 (December), 416-423.