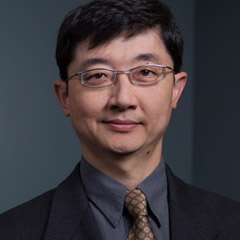 Associate Professor and Area Chair
Information, Technology, and Operations
Joined Fordham: 2008
General Information:
140 W. 62nd Street, Room 441,
New York, NY 10023
Email: [email protected]
Robert Chiang received his doctoral degree in information systems from the University of Washington. Prior to joining the Gabelli School of Business faculty, he was an assistant professor at the University of Connecticut School of Business and a manager at Accenture.

Professor Chiang's research interests are in software process improvement, information-systems economics and e-commerce design. His articles have appeared in leading journals such as Information System Research, Operations Research, IEEE Transactions on Software Engineering and INFORMS Journal on Computing.

His consulting experience spans business process reengineering, project/program management, requirements management, organizational change enablement, and system development methodology improvement. His clients have included leading global and U.S. companies in the financial, health care, transportation and energy industries.

Ph.D.: University of Washington, Ph.D., Information Systems
Master's: University of Southern California, M.S., Electrical Engineering (M.S.E.E.); University of Southern California, M.S., Computer Science (M.S.C.S.)
Bachelor's: National Cheng-Kung University (Taiwan), B.S., Engineering Science

Software Engineering
Information Systems Economics
e-Commerce Design

Competition through Exclusivity in Digital Content Distribution, with J. Jhang-Li. Production and Operations Management, forthcoming.
Optimal Construction Strategies for Reverse Logistics Networks: A Multi-criteria Decision Approach for the Chinese Iron and Steel Industry, with W. Gu, C. Wang, S. Dai, and L. Wei. Resources Policy, forthcoming.
Managing Risk-Adjusted Resource Allocation for Project Time-Cost Tradeoffs, with M. A. Nunez and L. Kuo. Annals of Operations Research, forthcoming.
Supplier Involvement and Contract Design during New Product Development, with S. J. Wu. IEEE Transactions on Engineering Management, 63, 2, 248-258, 2016.
Resource Allocation and Revenue Maximization for Cloud Content Distribution, with J. Jhang-Li. Decision Support Systems, 77, 55-66, 2015.
Delivery Consolidation and Service Competition among Internet Service Providers, with J. Jhang-Li. Journal of Management Information Systems, 31, 3, 254-286, 2014.
Strategic Alignment and Value Maximization for IT Project Portfolios, with M. Nunez. Information Technology and Management, 14, 2, 143-157, 2013.
Improving Web Catalog Design for Easy Product Search, with M. Nunez. INFORMS Journal on Computing, 19, 4, 510-519, 2007.
Periodic Cache Replacement Policy for Dynamic Content at Application Server, with P. Goes and J. Zhang. Decision Support Systems, 43, 2, 336-348, 2007.
An Economic Analysis of Interconnection Arrangements between Internet Backbone Providers, with Y. Tan and V. S. Mookerjee. Operations Research, 54, 4, 776-788, 2006.
A Fault Threshold Policy to Manage Software Development Projects, with V. S. Mookerjee. Information Systems Research, 15, 1, 3-21, 2004.
Improving Software Team Productivity, with V. S. Mookerjee. Communications of the ACM, 47, 5, 89-93, 2004.
A Dynamic Coordination Policy to Manage Software System Construction, with V. S. Mookerjee. IEEE Transactions on Software Engineering, 28, 7, 684-694, 2002.