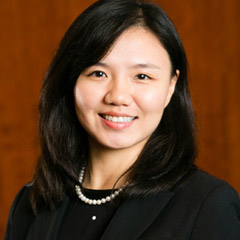 Assistant Professor
Finance and Business Economics
Joined Fordham: 2014
General Information:
45 Columbus Avenue, Room 604,
New York, NY 10023
Email: ltong2@fordham.edu
Website: Personal Homepage
Lin Tong joined the Gabelli School of Business in September 2014 as an assistant professor of finance. She received her PhD in finance from Tippie College of Business at the University of Iowa. She also holds an MS in mathematics from Iowa State University and a BA in mathematics from Nanjing University, China.

Professor Tong's research interests include institutional investors, high-frequency trading, mutual funds, and behavioral finance. Her research has been presented at high-level gatherings in America and Europe, among them annual meetings of the American Finance Association, European Finance Association, and Financial Management Association; the NYU Stern Conference on Market Microstructure; and the SEC Annual Conference on the Regulation of Financial Markets. Professor Tong's work has been mentioned in several media outlets, including The Economist and Barron's.

PhD, Finance, University of Iowa, 2014
Master's: MS, Mathematics, Iowa State University, 2009
Batchelor's: BA, Mathematics, Nanjing University (China), 2007

High-frequency trading
Mutual funds
Behavioral finance
Asset pricing

Jeffrey A Busse, Lin Tong, Qing Tong, and Zhe Zhang, Trading Regularity and Fund Performance, Review of Financial Studies, forthcoming.
Wei C. Li, Ashish Tiwari, and Lin Tong, Investment Decisions Under Ambiguity: Evidence from Mutual Fund Investor Behavior, Management Science, 2017, 63, 2397-2771.