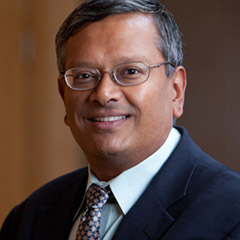 Associate Professor and Associate Dean of Research and Faculty Development
Finance and Business Economics
Joined Fordham: 2008
General Information:
140 W 62nd St, Room 448
New York, NY 10023
Email: [email protected]
N.K. Chidambaran is an associate professor and associate dean of research and faculty development at the Gabelli School of Business. Prior to his career at Fordham, he served on the faculty at Rutgers University and Tulane University.

Professor Chidambaran teaches corporate finance, corporate governance and risk management, and he does research in corporate finance and financial derivatives. His work has been published in leading academic journals such as the Journal of Financial Economics, the Journal of Risk and Insurance, the Journal of Derivatives and the Financial Analysts Journal, as well as in books and as part of conference proceedings. He has made presentations at major academic conferences.

Professor Chidambaran received his doctorate from New York University's Stern School of Business and a BTech from the Indian Institute of Technology, Bombay.

Ph.D.: Finance, New York University
Master's: M. Phil, Finance, New York University
Bachelor's: B.Tech, Chemical Engineering, Indian Institute of Technology, Bombay

Corporate Finance
Corporate Governance
Derivatives and Risk Management

Chidambaran, N. K., Dipali Krishnakumar and Madhvi Sethi, Forthcoming, Domestic Vs. Cross-Border Acquisitions: Evidence from India, Journal of Economics and Business.
Chatterjee, Sris, N. K. Chidambaran, and Gautam Goswami, 2016, Security Design for a Non-Standard IPO: The Case of SPACs, Journal of International Money and Finance 69, pp. 151-178.

Best Paper Award

, 2015 India Finance Association Conference.
Chen, Ren-Raw, N. K. Chidambaran, Michael Imerman, and Ben Sopranzetti, 2014, Liquidity, Leverage, and Lehman: A Structural Analysis of Financial Institutions in Crisis. Journal of Banking and Finance 45, pp. 117-139.
Brick, Ivan, and N. K. Chidambaran, 2010, "Board Monitoring, Committee Structure and Firm Value," Journal of Corporate Finance 16, pp. 533-553.
Chidambaran, N. K., and Nagpurnanand R. Prabhala, 2003, Executive Stock Option Repricing, Internal Governance Mechanisms, and Management Turnover, Journal of Financial Economics 69, pp 153-189.
Chidambaran, N. K., Chitru Fernando, and Paul Spindt, 2001, Credit Enhancement through Financial Engineering: Freeport McMoRan's Gold-denominated depositary shares, Journal of Financial Economics 60, pp. 487-528.

Book Chapters:

Blackburn, Doug and N. K. Chidambaran, Forthcoming, Measuring Market Integration: U.S. Stock and REIT Markets in: Complex Systems Modeling and Simulation in Economics and Finance, Eds: Shu-Heng Chen, Ying-Fang Kao, Ragupathy Venkatachalam, Ye-Rong Du, Springer Verlag.
Chidambaran, N. K., 2009, Genetic Programming for Option Pricing, in: Handbook of Quantitative Finance and Risk Management, editors: Cheng-Few Lee, Alice C. Lee, and John Lee, Springer Verlag.