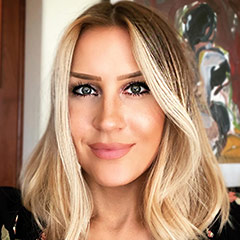 Assistant Professor
Leading People and Organizations
Gabelli School of Business
Joined Fordham: 2020
Sophia Town, PhD, is an assistant professor of organizational behavior in the leading people and organizations area at the Gabelli School of Business. She received her PhD from Arizona State University in 2019.

Professor Town's research focuses on leadership and human flourishing. She explores how people navigate the increasing complexities of work with wisdom and insight. Central topics include emotion and organizing, organizational paradox, and mindfulness.

Professor Town's work reflects an interdisciplinary spirit, drawing on modern social science and ancient wisdom traditions, to address critical leadership problems. In this vein, she enjoys collaborating with others who bring theoretical diversity to significant leadership problems. Her work has been supported by a grant from the Lincoln Center for Applied Ethics and the Transformation Project. In 2018, Professor Town was named the Jeanne Lind Herberger Fellow for transformative research on work and life.

As an educator, Professor Town's classes are guided by the question: How can we use business education to develop compassionate leaders and build a flourishing world? She grounds these courses in transformational pedagogy, experiential learning, and mindfulness-based approaches with the goal to move students from knowing to becoming.

Her favorite classes to teach are Mindful Leadership and Principles of Management. In 2018, Professor Town received Arizona State University's Teaching Excellence Award. In 2020, she was involved in redesigning the Gabelli School's core management course to function as a pedagogical research lab within the leading people and organizations area.

Professor Town currently serves as a research consultant for ASU's Center for Mindfulness, Compassion, & Resilience. She also serves as a research fellow for Fordham's Center for Humanistic Management.

PhD: Organizational Communication, Arizona State University
MA: Human Communication (organizational concentration), Arizona State University
BS: (Summa Cum Laude) Communication, Arizona State University

Leadership
Human flourishing
Emotions in organizations
Mindfulness & contemplative practice
Organizational paradox
Transformative pedagogy
Qualitative research methods

Town, S., Weber, J. & Nagy, N. (Accepted). "Changes in business students' value orientations after the COVID-19 outbreak: An exploration," Business and Society Review.
Zanin, A., Avalos, B., Town, S., Tracy, S., & Stanley, L. (Accepted). Discursive, Communal, and Individual Coping Strategies: How U.S. Adults Co-constructed Coping During Preliminary COVID-19 Stressors. Health Communication.
Stanley, L., Zanin, A., Avalos, B., Tracy, S., Town, S. (2021). Collective emotion during collective trauma: A metaphor analysis of the COVID-19 global pandemic. Qualitative Health Research. Available online here.
Tracy, S. J., Avalos, B., Martinez, L., Stanley, B.L., & Town, S., Zanin, A. (In Press). Compassion, burnout, and self-care during COVID-19: On the collective impact of self-soothing super highways. In L. Browning, J. Sørnes, & P. J. Svenkerud (Eds.), Organizational Communication in the Time of Coronavirus: Ethnographies and the Future of Work. Palgrave.
Pirson, M., Piedmont, R., Town, S., Nagy, N., Haber, J., MacDonald, I. F., Janssen, C., Teague, J., Hollwitz, J., Gurtata, J. (2021). I was transformed, but I didn't love the process: Testing students' learning and feedback of the new 'humanistic' management course. Journal of Jesuit Business Education.
Adame, E., Tracy, S., Town, S., Towles, M., Razzante, R., Tietsort, C., Kamrath, J. K., Clark, L., Tremblay, R., Pettigrew, J., Donovan, M. C. J., & Becker, K. (2021). Can We Create the 'Being' of Leadership?: A Mixed-Methods Study of Two Leadership Pedagogies at a Southwestern, U.S. University. Journal of Applied Communication Research. Available online.
Town, S., Donovan, M. C. J., & Beach, E. (2020). A 'gestalt' framework of emotions and organizing: Integrating innate, constructed, and discursive ontologies. Management Learning. Available online.
Tracy, S., & Town, S. (2020). Problematizing the real/fake dichotomy. In Brown, A. (Ed.) Oxford Handbook of Identities in Organizations. New York, NY: Oxford University Press.

For more, please see Professor Town's Google Scholar page.