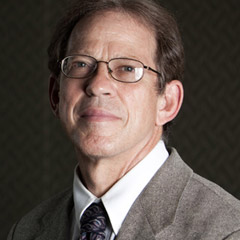 Associate Professor
Finance and Business Economics
Joined Fordham: 1992
General Information:
45 Columbus Avenue, Room 610,
New York, NY 10023
Email: raymar@fordham.edu
Steven Raymar is an associate professor of finance at the Gabelli School of Business. He previously taught at Indiana University - Bloomington. He received his undergraduate degree from Yale University and his PhD in finance from Columbia.

Professor Raymar teaches and conducts research primarily in the field of options, futures and derivatives. He has published his work in the Journal of Quantitative Finance, Journal of Derivatives and Journal of Fixed Income, among others.

Professor Raymar is the associate finance chair for Fordham's Gabelli School of Business, where he has served on the curriculum committee for several years. He works closely with the Gabelli School's prestigious Global Business Honors Program, both as faculty coordinator assisting with course design and as the coordinator for the junior-senior honors project seminar. At Fordham's Graduate School of Business Administration, Professor Raymar leads the Credit Risk Management course in the master of science in quantitative finance program. Beyond his work for Fordham, he is an age-group division leader for New York's west side basketball little league, Safe Haven.

PhD: Columbia University
Master's: Master of Philosophy, Business-Finance, Columbia Business School
Bachelor's: BA, Yale University

Financial Derivatives
Credit Derivatives

"Effects of Corporate Governance on Innovation Activities: Evidence from Emerging Markets," (with Iftekhar Hasan and Liang Song), Forthcoming: Singapore Economic Review, March 2015, V 60: 1.
"Are CEOs Myopic? A Dynamic Model of the Ongoing Debate," (with Moren Levesque, Phillip Phan, and Maya Waisman), Advances in Financial Economics: Corporate Governance in the U.S. and Global Settings, 2014, v 17: 125-151.
"Carry Costs and Futures Hedge Calculations", (with Robert Ferguson and Dean Leistikow), Advances in Investment Analysis and Portfolio Management , 2013, v 6: 1-35.
"A Comparative Analysis of Several Popular Term Structure Estimation Models," (with Robert Ferguson), Journal of Fixed Income, March 1998, v 7 (4): 17-33.
"Monte Carlo Estimation of American Call Options On the Maximum of Several Stocks," (with Michael Zwecher), Journal of Derivatives, Fall 1997, v 5 (1): 7-23 (Lead Article of Volume 5).
"The Valuation of Compound Options and American Calls on Dividend Paying Stocks with Time Dependent Volatility," (with Aamir Sheikh), Journal of Financial Engineering, September 1996, v 5 (3): 243-266.
"The Financing and Investment of a Levered Firm Under Asymmetric Information," Journal of Financial Research, Winter 1993, v 16: 321-336.
"Dutch Auction versus Fixed-Price Self-Tender Offers for Common Stock" (with S. Kamma and G. Kanatas), Journal of Financial Intermediation, 1992, v 2: 277-307.
"A Model of Capital Structure when Earnings Are Mean-Reverting," Journal of Financial and Quantitative Analysis, September 1991.