Gabelli Sports Business Initiative
Gabelli School Sports Business Initiative
Focused on the Future of Sports
Sports business is evolving at an unprecedented pace. From the popularity of new recreational sports to advanced use of biometric data to aid in athletic success, the world of sports is becoming more complex and more controversial. As a result, sports business models, legal standards, and ethical questions are becoming more complex and fascinating. Players are asserting their rights, owners are profiting through new revenue streams such as gambling and streaming, and sports fans are coping with the intersection of sports and politics. Additionally, mental health concerns, sexual abuse, and gender identity of athletes have produced debate on all levels of the sports hierarchy.
The Gabelli School Sports Business Initiative is at the cutting edge of everything that is happening in sports business. It examines and analyzes current issues involving sports and provides a forum that brings together stakeholders across professional sports, amateur sports, collegiate sports and Olympic sports, for critical discussions on what matters most.
From sports podcasts to symposia to lectures, the content we produce and deliver provides the insights and thought leadership that will drive the future of sports.
---
Professor Mark Conrad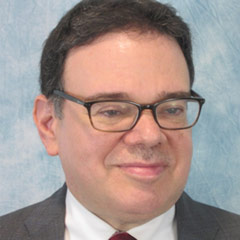 The Gabelli School Sports Initiative was founded and is directed by Professor Mark Conrad, JD, who teaches in the Gabelli School's Law and Ethics Area, and who also directs the Sports Business concentration for Gabelli School undergraduates. He has taught sports law and business classes at Fordham University for over 25 years. Professor Conrad has served as a panelist discussing sports law and business topics at other institutions, including Harvard University, Duke University, The University of Pennsylvania, and Fordham Law School, and is frequently quoted in major media outlets. He has lectured at Columbia University and Northwestern University in Doha, Qatar.

NEW – Sports Business Podcast with Prof. C
Professor Mark Conrad interviews sports experts, authors, and athletes on the topics that are changing the industry. He also comments on the key issues of the day. His law background provides a ground-breaking approach to enlightened exchanges with guests who join him in tackling tough topics. Tune in to these stimulating discussions to gain diverse perspectives, learn about interesting trends, and delve into the depths of the controversies that often make headlines.
LISTEN TO EPISODE 1 (Intro)
Professor Conrad provides an overview of the types of subjects he will explore in his podcasts, as well as the unconventional ways he and his guests will dive deep into contentious topics, focusing on their connection to sports and their reflection on society. Listen and get grounded!
00;00;00;00 - 00;00;53;27
Mark Conrad
Hello and welcome to the Sports Business Podcast. The show that explores cutting edge issues in the world of professional, college, recreational and Olympic sports. My name is Mark Conrad or Prof. C and I teach at Fordham University's Gabelli School of Business, where I serve as professor of law and ethics and the director of its Sports Business Initiative. Through the Sports Business Podcast, I will explore, discuss, debate and analyze the legal, ethical, societal, as well as business issues in this ever changing landscape of sports.

00;00;54;00 - 00;01;28;22
Mark Conrad
But what will make this podcast unique is that I am not going to be a cheerleader for the industry. Rather, I may praise, may criticize, may seek change in the current sports scene. In one episode, I may ask tough questions. In another I may state controversial views. In another I may interview guests with different and unusual perspectives. The future of college sports, civil rights, athletes who challenge the structure, changing youth sports, staging the Olympics.

00;01;28;25 - 00;01;54;22
Mark Conrad
Guests may include present or former athletes, coaches, owners, lawyers, medical specialists, authors, activists for social change, or those who wish to keep the status quo, and those wanting to even end the system and rebuild from the ground up. Often, guests will be people you've never heard of but should hear about, and there will also be time for some fun.

00;01;54;24 - 00;02;28;22
Mark Conrad
The occasional discussion that may fuse sports and arts, sports and comedy, sports and history, or sports issues for the weekend warriors not out to break records, but to enjoy and compete. I want this podcast to be the go to place for the trends, the controversies and the good stuff. At the end of each year, I will broadcast Prof. C's Prophecies where I will look into my crystal ball to predict the future of sports in the next year.

00;02;28;25 - 00;02;56;02
Mark Conrad
I have been associated with Fordham's Gabelli School for over 35 years, and I have taught and researched legal and business issues and sports for most of that time. I have spoken at many leading academic institutions and have been frequently quoted in the media. I am totally psyched to lead this podcast and I hope you'll enjoy listening as much as I am thrilled to be a part of it.

00;02;56;04 - 00;03;41;12
Mark Conrad
The Sports Business podcast will be a place to hear incisive interviews, trenchant commentary, and even some fun and humor. I would like to thank the administration of the Gabelli School of Business, Dean Lerzan Aksoy, and fellow administrators and faculty, and Fordham University as a whole for their support. I welcome you to the Sports Business Podcast as Prof. C and hope you will join us in the future.
LISTEN TO EPISODE 2
Professor Conrad discusses USA gymnastics and the long road back from the Larry Nassar sex abuse scandal to the appointment of Li Li Leung, who was named the organization's CEO in 2019, and who has worked tirelessly to rebuild its reputation, as well as the trust of the athletes and the public. Professor Conrad commends her dedication, but questions the expanded deal she brokered with Nike to be the exclusive apparel and footwear provider for the men's and women's national teams through the 2028 Los Angeles Olympics. Tune in to learn why.
00;00;00;00 - 00;00;49;16
Mark Conrad
Hello and welcome to the Sports Business Podcast. The show that explores the cutting edge issues in the world of professional, collegiate, amateur and Olympic sports. I'm Mark Conrad or Prof. C and I teach at Fordham University's Gabelli School of Business, or I serve as professor of Law and Ethics and the director of the Sports Business Initiative. Remember USA Gymnastics, the governing body for the sport whose executives were implicated for their inaction in the Larry Nassar sex abuse scandal?

00;00;49;18 - 00;01;22;03
Mark Conrad
The organization sued for hundreds of millions of dollars by those victimized by the sex abuse. Many, including myself, thought that the national governing body for women's and men's gymnastics should be decertified and a new body be created. However, I have to admit that this view may have been premature, but it does not mean that things are smooth sailing. On the positive, through serendipity or just plain good luck,

00;01;22;05 - 00;01;57;18
Mark Conrad
Simone Biles returned in superb form to capture the all around title, her eighth at the recent USA Gymnastics Championships. It comes two years after she had to withdraw from several events at the Tokyo Olympics due to a mental block known in gymnastics parlance as the twisties. Suffice it to say this is an astounding triumph for her. And it also seemed to be kumbayah time for USA Gymnastics and its CEO, Li Li Leung.

00;01;57;20 - 00;02;33;11
Mark Conrad
In 2019, Leung was appointed the CEO of USA Gymnastics. A former elite gymnast who served as an NBA vice president specializing in sponsorship and marketing, Leung was tasked to reestablish the organization's credibility. She took the helm of an organization facing huge challenges. One was the departure of all of the organization's sponsors due to the media and public backlash from the USA Gymnastics, failure to report the sexual abuse by coaches and the women's team

00;02;33;11 - 00;03;07;19
Mark Conrad
Doctor, Larry Nassar, to authorities. In addition, she had to clear an organization that found itself in bankruptcy court due to the liabilities it faced. More importantly, Leung had to gain the trust of the gymnastics community of 200,000 members. She had to ensure that gymnastics is a safe space for young women. She had to find new sponsors. In sum, she had to make USA Gymnastics more transparent and far more respected.

00;03;07;21 - 00;03;40;13
Mark Conrad
Four years later, Ms. Leung can claim some success. The organization settled lawsuits by Nassar victims for a total of about $380 million. It crafted a plan for reorganization to emerge after bankruptcy. Under her watch, athletes were given a greater say in the organization. On one level, Leung did what many thought could not be done, made USA Gymnastics respectable and no longer a poster child for toxicity.

00;03;40;16 - 00;04;10;17
Mark Conrad
She capped off the success by securing an expanded partnership deal. But there are still trouble spots: some questionable hires; too many coaches under investigation for abusive conduct; even a seemingly petty matter denying press credentials to the championships to Scott Reed of the Orange County Register, who has tenaciously covered the sport for 20 years, often critically, but honestly.

00;04;10;19 - 00;04;40;26
Mark Conrad
But there's one stain on Leung's tenure that makes me particularly uncomfortable. It is the expanded partnership deal with Nike. Nike will be exclusive apparel and footwear provider for the men's and women's national teams through the 2028 Los Angeles Olympics. Although figures were not reported, the organization says it is the biggest sponsorship in terms of both annual value and total value for the national governing body.

00;04;40;28 - 00;05;11;12
Mark Conrad
Here is why I am uncomfortable. Given the history of this governing body, I wonder if Nike is the best choice to be the organization's sponsor. The company has been justifiably criticized for its treatment of female runners at its former elite track club called the Nike Oregon Project. Former athletes have accused its Nike backed coach, Alberto Salazar, of body shaming, doping and even sexual misconduct.

00;05;11;15 - 00;05;40;17
Mark Conrad
Salazar has since been banned from coaching by both the U.S. Anti-Doping Agency and USA Safe Sport. In the fall of 2022, I interviewed one of those elite women's runners who wrote a bestselling book that details that atmosphere. For those interested, the interview is on our Gabelli Sports Initiative YouTube channel. Given what so many female gymnasts endured, is a partnership with Nike,

00;05;40;20 - 00;06;14;19
Mark Conrad
yes, that Nike, who permitted abuse under its watch, in the best interest of USA Gymnastics? It is ironic that USA Gymnastics, an organization with a history of looking the other way regarding abuse of its elite female gymnasts, would partner with a company with its own controversial history of treatment of female athletes. A sad irony indeed. Despite some successes in bringing USA Gymnastics from the brink, Li Li Leung has some explaining to do.

00;06;14;21 - 00;06;36;22
Mark Conrad
Thank you for listening. Until next time, this is Prof. C for the Sports Business Initiative.
LISTEN TO EPISODE 3
Professor Conrad discusses the history of the NCAA, which for decades, was the alpha and omega of college sports—one that branded itself as a "guardian for the sacred altar of amateurism." However, over the years, all of that changed—with the negotiation of TV deals and its member schools agreeing to multimillion-dollar contracts for coaches, while securing huge sponsorships. The colleges and universities, coaches, broadcasters, and sponsors all made money, but what about the student athletes? While the concept of amateurism in college sports persists and student athletes still cannot receive "pay for play," in 2021, the NCAA agreed to loosen rules around the name, image, and likeness (NIL) rights of student athletes. Learn more about the role the Supreme Court played in this decision and hear Professor Conrad's predictions on where this might ultimately lead.
00;00;00;00 - 00;00;45;16
Mark Conrad
Hello and welcome to the Sports Business podcast, the show that explores the world of professional, collegiate, amateur and Olympic sports. I'm Mark Conrad, or Prof. C from Fordham University's Gabelli School of Business, where I serve as the professor of Law and Ethics and the director of the Sports Business Initiative. Imagine a voluntary private sports organization of longstanding vintage, one that had a unique mission found nowhere else in the world.

00;00;45;19 - 00;01;19;05
Mark Conrad
Although non-governmental, it had a body of rules and regulations that would make a federal bureaucrat blush. They were intricate with armies of compliance officers employed by its members to ensure the rules were followed, and the rules were the de facto laws of college and university sports for decades. The organization was struck in a traditionalist mode, probably the last one in the world that maintained a strict series of rules barring even the whiff of professional conduct.

00;01;19;08 - 00;01;56;26
Mark Conrad
These rules, enacted by consent of the member schools, created a social contract. And to be fair, one that had some validity and may still have some validity for many, many schools and many school athletes. In essence, the organization claims that college athletes are students first and athletes second. The organization regulated competitive balance among schools. The goal was to get an education, experience competition, build friendships, and boost school spirit for students and alumni.

00;01;56;28 - 00;02;28;17
Mark Conrad
Not insignificantly, many receive full or partial scholarships to defray the cost of attendance. Rules were equally administered for schools in various divisions to prevent richer and bigger schools from using their leverage to find the best athletes. And of course, we're talking about the NCAA. For decades, the NCAA was the alpha and omega of college sports. It resisted outside attempts to regulate its activities.

00;02;28;19 - 00;03;04;28
Mark Conrad
It branded itself as a guardian for the sacred altar of amateurism. It did not consider itself a business. Really? It negotiated TV deals for years. The athletic conferences, ever more powerful, negotiated bigger ones. Its member schools paid big time coaches increasingly lucrative seven figure annual contracts and entered into profitable sponsorships. Schools sold tickets to alums and others, filling up arenas and stadiums that can make a pro facility look simply functional.

00;03;05;00 - 00;03;34;13
Mark Conrad
They thought of athletic success as a chip to attract big money from alums. So, the schools can make money. The broadcasters make money. The sponsors make money. Coaches make money. But what about the athletes? These students may start to think of themselves finally as a labor force, entertaining the other stakeholders. And they are not merely an appendage to college athletic departments.

00;03;34;16 - 00;04;08;12
Mark Conrad
State legislatures and the courts have belatedly discovered that the NCAA and the athletic conferences are business, especially in about 40 to 50 large universities in this country. By passing laws ensuring name, image and likeness rights to college students, which the NCAA opposed, the quaint idea of students not able to sign contracts, have agents or make money, must have shocked some of the folks at Indianapolis, the headquarters of the NCAA.

00;04;08;15 - 00;04;37;18
Mark Conrad
The fallacy of the NCAA's misguided notion of amateurism was readily made clear by the U.S. Supreme Court in the Alston case a couple of years back, when the justices unanimously rejected the association's argument that its restrictions of educational benefits was justified despite laws against agreements that restrain trade. What is rarely reported is that the NCAA won a part of its case.

00;04;37;20 - 00;05;04;23
Mark Conrad
The lower courts accepted its rules restricting outside non educational income. It just restricted its limitations on educational benefits. I don't know who came up with the strategy of appealing to the U.S. Supreme Court, but appeal the NCAA. For its efforts and the millions in legal fees expended, the NCAA was rewarded with a 9 to 0 ruling against it.

00;05;04;25 - 00;05;47;13
Mark Conrad
Yes, this Supreme Court. The justices ripped the heart out of the NCAA's ideal of amateurism as the raison d'etre of college sports. And one Justice, Kavanaugh, went even further, basically calling the NCAA's regulations an illegal restraint of trade that would not be tolerated in any business. So we now have a world where some of the 40 to 50 powerhouse college programs are jockeying for new conference alignments in an attempt to pocket even more revenues, imposing difficult travel schedules for students on many teams to fatten up the broadcast and streaming rights fees.

00;05;47;16 - 00;06;19;26
Mark Conrad
All the while, athletes are litigating, seeking to be considered employees and possibly unionizing. This may sound like old hat for some of you, but this history leads to the question of where do we go from here? And it's time to look into my crystal ball, called Prof. C's Prophecies. And here are some prophecies. One: In the next half decade, many college athletes, especially from these power conference schools, will be compensated as employees.

00;06;19;29 - 00;06;47;10
Mark Conrad
It is just a matter of time. Not all, but many. Either the courts will consider college athletes employees under the National Labor Relations Act or by the courts or Congress amending the labor laws, conferring such a right. Once they are employees, most likely in football and basketball, but possibly in other sports, then these athletes could unionize and some will.

00;06;47;12 - 00;07;18;29
Mark Conrad
Then we're left with two or three super conferences just for football or breakaway conferences becoming de facto NFL minor league teams. The great majority of schools will offer a more traditional menu of college sports, possibly reverting back to a model of less money, more walk-ons and fewer pressures to produce large revenues. A few schools could even eliminate football, making Title IX enforcement a whole lot easier.

00;07;19;01 - 00;07;49;16
Mark Conrad
Finally, antitrust law challenges to the NCAA's policies will continue. But attempts in Congress to create an antitrust exemption for the NCAA, a persistent hope for the NCAA powers that be, will fail, as it should. Before traditionalists quake in their boots, hear me out. For the power schools, those generating $50 million a year or more from college football and basketball teams,

00;07;49;18 - 00;08;25;12
Mark Conrad
the unionization of athletes would avoid litigation and congressional action and would bring consistency and stability. NIL standards can be negotiated rather than devised by collectives and in the free for all situation that we have now. Working conditions and health insurance could be negotiated as would transfer rules. Finally, to the relief of everyone except the lawyers, the result will be a less contentious and less litigious atmosphere because collective bargaining agreements are essentially litigation-proof.

00;08;25;14 - 00;08;52;07
Mark Conrad
And that is a big plus for all the stakeholders, including the fans. Thank you for listening. Until next time, this is Prof. C for the Sports Business Initiative.