Gabelli School Celebrates $35 Million Gift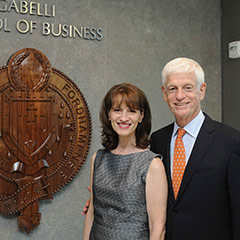 Ten years after making a transformational gift to the business school that now bears his name, Mario Gabelli, a summa cum laude graduate and 1965 class president of the Gabelli School of Business, and his wife, Regina Pitaro, FCRH '76, donated $35 million to the school – superseding their 2010 donation as the single largest gift in Fordham's history.
The Centennial Challenge Matching Gift
A significant portion of the gift will be used as a challenge to inspire and motivate other alumni and friends to stand with Mr. Gabelli as an investor and believer in Dean Rapaccioli's vision of the Gabelli School of Business.
On December 15, 2020, Fordham University published a Resolution of Appreciation acknowledging this Centennial Campaign gift.
The gift enabled the Gabelli School to reach nearly half of the school's $75 million Centennial Campaign goal, and it will be used in a multitude of ways.
MBA and PhD Program Enhancements
Providing scholarships for MBA and Ph.D. students, as well as enhancements that will enrich both programs, including faculty support in recognition of outstanding research and industry-relevant teaching.
The Gabelli School Student Managed Investment Fund
Expanding the opportunities for students to manage a portion of Fordham's actual endowment. Undergraduate and graduate students will oversee additional portfolios, including an ESG fund.