Post-Baccalaureate / Pre-Medical / Pre-Health Information Sessions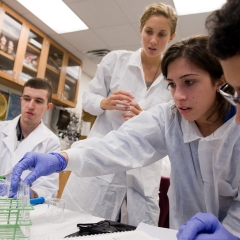 Take the science courses you need to apply to the following schools and programs:
Medical School
Physician Assistant Program
Dental School
Veterinary School
Occupational Therapy Program
Physical Therapy Program
Accelerated Nursing Program
Anaesthesiology Assistant Program
Learn more about our curriculum and get real answers from real people at an information session.
Attend either an Information Session or Express Admission Day event and the application fee will be waived.
Join us for a virtual Express Admissions Day and get a decision on the spot.
Friday, April 28, 2023
10:00 A.M. - 3:00 P.M. (EST)
Post-Baccalaureate Pre-Medical/Pre-Health
Information Session (Virtual)

Wednesday, February 15, 2023
6:00 P.M. - 7:30 P.M. (EST)
Questions? Email us at [email protected] or call Debbie Lesperance 914-367-3021
Our program offers pre-med curriculum primarily in the evening, on weekends, and during the summer to prepare students for application to medical, dental or veterinary schools, nursing, physician assistant or physical therapy programs. You can also sign up to be notified about future information sessions as they are scheduled and more.