Undergraduate Student Resources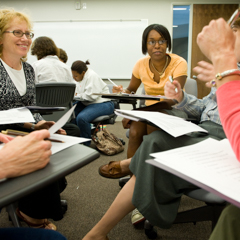 As a Jesuit University, Fordham seeks to help its students develop the habits of heart and mind that are the hallmarks of liberally educated men and women.
Juggling busy lives, schedules, and external obligations, you have all taken an important and difficult step by deciding to resume or begin your undergraduate studies. Fordham School of Professional and Continuing Studies was created specifically for adult students like you. Our program combines the strengths of Fordham's core curriculum with its range of majors across the arts and sciences, but is structured within a flexible evening, weekend, and online schedule. In short, our rich curriculum encourages you to take advantage of all the intellectual opportunities available throughout the University.
If you have any questions, do not hesitate to drop into our offices at any of our three campuses.
Below you will find links to various resources that the University provides.