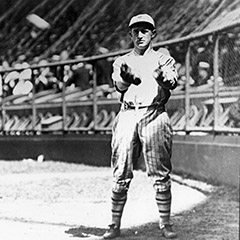 Frank Frisch
Fordham College, Class of 1920
Member of the National Baseball Hall of Fame
(Inducted in 2008)
When Francis "Frankie" Frisch, a skinny kid from the Bronx, arrived at Fordham University in 1916, he couldn't decide if he wanted to play baseball, basketball, football, or run track. So he elected to take up all four. Within three years, the Fordham Flash, as he came to be known, had won over his classmates with his athletic prowess. He also caught the attention of John McGraw, the legendary coach of the New York Giants.
In 1919, Frisch left the University to play infield for McGraw's Giants. Two years later, Frisch and his teammates won the World Series and repeated the feat the following year. Frisch batted .300 and .471, respectively, in each series and quickly established himself as one of the league's most sure-handed fielders. Later, as player-manager with the St. Louis Cardinals, he instilled in his team an appreciation for scrappy, hard-nosed play that earned them the moniker the Gashouse Gang. Frisch batted over .300 13 times in his playing career, including 11 years in a row, from 1921 to 1931, the year he won the National League's Most Valuable Player award. He played on eight pennant-winners in 19 seasons with New York and St. Louis. Frisch was inducted into the National Baseball Hall of Fame in 1947 and the Fordham Athletics Hall of Fame in 1970.
After his playing career, Frisch distinguished himself behind the microphone as a play-by-play man for the New York Giants. Although he didn't get to hone his on-air skills at Fordham's WFUV, which was founded in 1947, he was a natural in the broadcasting booth and the first in a long line of successful Fordham alumni sportscasters.