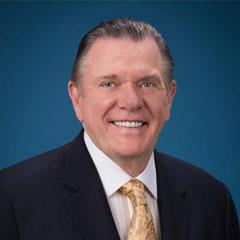 John M. "Jack" Keane
Gabelli School of Business, Class of 1966
Four-Star General and Vice Chief of Staff, U.S. Army
Recipient of the Presidential Medal of Freedom
(Inducted in 2022)

A leader in war and peace, retired four-star general Jack Keane, former vice chief of staff of the U.S. Army, is a paragon of courage and service. Throughout his distinguished career, whether commanding the 101st Airborne Division or offering expert testimony to Congress on foreign policy and national security issues, he has demonstrated the clear thinking and selfless love of country he developed as an undergraduate and ROTC cadet at Fordham University.
A native of New York City, Keane grew up in a housing project on Manhattan's Lower East Side. When he enrolled at Fordham's business school, he became the first member of his family to attend college. In 1966, he earned a bachelor's degree in accounting and was commissioned a second lieutenant in the U.S. Army. He later earned a master's degree in philosophy at Western Kentucky University and graduated from the Army War College and the Command and General Staff College.
A career paratrooper, Keane served as a platoon leader and company commander in the Vietnam War. He rose to lead the famed 101st Airborne Division and the legendary 18th Airborne Corps before being named vice chief of staff of the Army in 1999. He was at the Pentagon when it was attacked on September 11, 2001. He lost 85 Army teammates that day and was soon dispatched to New York City to take part in the response to the World Trade Center attacks. He retired from the military in 2003, but three years later, he was a key architect of the surge strategy that changed the way the U.S. fought the war in Iraq.
Since retiring from the military, he has remained an influential adviser to U.S. presidents, members of Congress, and other senior officials. General Keane is a foreign policy and national security expert who provides nationwide analysis and commentary in speeches, articles, congressional testimony, and through several hundred television and radio interviews annually. He is chairman of the board of the Institute for the Study of War, a Washington, D.C.-based think tank, and a member of the prestigious Secretary of Defense Policy Board. For his valor in combat operations, he received numerous decorations, most notably the Silver Star, the Bronze Star, two Defense Distinguished Service Medals, and five Legions of Merit. He is the first military leader to receive the Ronald Reagan Peace Through Strength Award, and in March 2020, he received the Presidential Medal of Freedom, one of the nation's highest civilian honors.
Keane is a trustee fellow at Fordham University, which honored him with its Founder's Award in 2004. Fordham also honors his achievements in the military and his lifelong commitment to his country through the General Jack Keane Outstanding Leader Award, presented annually to a graduating ROTC cadet of outstanding character and exceptional ability.