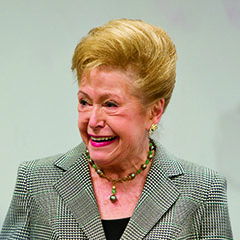 Mary Higgins Clark
Fordham College at Lincoln Center, Class of 1979
Bestselling Author, "Queen of Suspense"
(Inducted in 2009)
Mary Higgins Clark has built an illustrious career on gripping stories, most of them suspense novels that have captivated millions. But her own story could have been written by another famous author, Horatio Alger, whose tales of hard-won success illuminate her path to prominence. Her literary fame—and her education at Fordham—came after years of striving and after some professional and personal setbacks.
Born and raised in the Bronx, Higgins Clark graduated from Villa Maria Academy before enrolling in secretarial school to help support her family. She worked as a secretary at an advertising agency and, later, as a flight attendant before marrying William F. Clark, an airline executive and a 1949 graduate of Fordham College at Rose Hill.
When her husband died suddenly in 1964, Higgins Clark started writing radio scripts and eventually wrote her first book, a biographical novel about George Washington, which she followed up with her first suspense novel, Where are the Children? At the same time, she went back to school, earning a bachelor's degree in philosophy summa cum laude from Fordham College at Lincoln Center in 1979.
While she was a student, Higgins Clark unexpectedly met a producer of the upcoming film adaptation of her suspense novel. She told him she couldn't stop and talk: She had a midterm to take. Ever since, Higgins Clark, one of the most prolific and successful authors in the world, has kept Fordham University at the front of her thoughts and has remained a tireless champion for education.
Known worldwide as the "Queen of Suspense," she has written more than 30 novels—all of which have been national bestsellers, a publishing feat remarkable for both its longevity and breadth. Her work has won her numerous literary awards, including the medallion of the Ordre des Arts et des Lettres, which the French government presented to her in 2000 in recognition of her contributions to literature.
One of Fordham University's most active alumni, Higgins Clark was an early and eloquent advocate of Fordham College at Lincoln Center as a member of the college's board of advisers. She served on the University's Board of Trustees from 1990 to 1996, and in 2004, the University presented her with a Fordham Founder's Award for her unflagging commitment to wisdom and learning in the service of others.