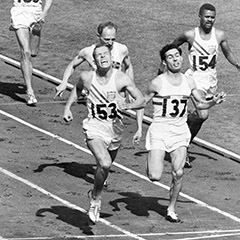 Thomas W. "Tom" Courtney
Fordham College at Rose Hill, Class of 1955
Gold Medalist, Track and Field, 1956 Summer Olympics
(Inducted in 2011)
Broad shouldered and muscular, Tom Courtney was often mistaken for a football player when he first set foot on the Rose Hill campus in 1951. Once on the track, however, Courtney's natural talent became evident: His graceful form, coupled with his quiet focus and unconquerable will, made clear to all that he was a runner like no other.
Born in Newark, New Jersey, Courtney grew up in Livingston and attended James Caldwell High School, where he established himself as one of the best high school runners in the state before accepting a track scholarship to Fordham.
During his time at Rose Hill, Courtney anchored the Rams' relay team. Fordham's fabulous foursome—which also featured Terry Foley, FCRH '54, Frank Tarsney, FCRH '54, and Bill Persichetty, GABELLI '54—set a two-mile world record during a track meet at the Los Angeles Coliseum on May 21, 1954. Courtney also won numerous individual titles, including the 1,000-yard Metropolitan Collegiate Championship and the IC4A 1,000-yard championship, which he ran in 2:10.9, then an IC4A record.
As a senior, Courtney continued his torrid pace, setting an American record in the 400-yard final at the Metropolitan AAU championship and a world record in the 600-yard final at the intercollegiate indoor championships. At the Washington Star games, an international invitational, Courtney bested fellow American Arnold Sowell, then considered the best runner in the world, by five strides. Now a promising track and field star, Courtney appeared on the cover of Sports Illustrated in his Fordham gear, a fitting and lasting tribute to his collegiate career.
After graduation, Courtney made the U.S. Olympic team and won two gold medals at the 1956 Summer Olympics in Melbourne, Australia. He set an Olympic record in the 800-meter run, with a time of 1:47.7, when he overtook Britain's Derek Johnson in the final 40 meters of the race before collapsing from exhaustion."It was a new kind of agony for me," he later wrote. The only thing I could think was,'If I live, I will never run again.'"
Courtney did run again, however. He anchored the four-man 1,600-meter relay several days later, earning a second gold medal for the U.S. team. Later, he set other world records, in 1956 and 1957, before retiring from competition. For one year, he was an assistant track coach at Harvard University, where he earned a master's degree in business.
He was inducted into the Fordham Athletics Hall of Fame in 1971 and into the USA National Track & Field Hall of Fame in 1978 as one of the best middle distance runners of his generation.