(In memoriam 1969-2020)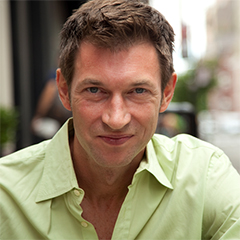 News Host and Reporter, WNYC
@RScottHake
Since 1992, Richard Hake has worked as News Host and Reporter at WNYC, AM 820, FM 93.9. His live and produced radio feature segments range from hard breaking news to cultural and artistic sound portraits. He specializes in neighborhood and people portraits and takes listeners to the places they normally wouldn't visit. Richard's work has been heard both nationally and locally on the NPR programs, Morning Edition, Weekend Edition, All Things Considered and On The Media. His voice is regularly heard during on air fundraisers and as fill in host for various WNYC shows. Richard can also be seen on television as the host of MTV Networks LOGO program, "The Advocate Newsmagazine."
Before coming to WNYC, Richard was at WFUV FM-New York as morning drive newscaster and reporter. He has also provided stories for National Public Radio, The BBC, The Associated Press, WBGO-FM, WOR-AM, WCBS-AM and United Press International.
Mr. Hake's feature and documentary work, including the Coney Island Cyclone Anniversary and The Perfume of The Bronx, earned him awards from The Associated Press Broadcasters Association, The Society of Professional Journalists, The New York Press Club, The Society of the Silurians and The National Federation of Community Broadcasters.
Richard, a native New Yorker, is a graduate of Fordham University and sits on its Edward Walsh Scholarship committee. He currently resides in Manhattan.