Cooperative Program in Engineering for FCLC Students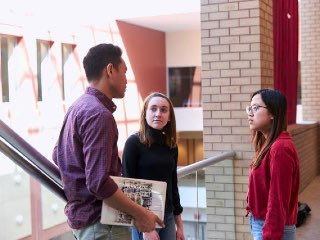 The Cooperative Program in Engineering is an educational affiliation between Fordham University and the School of Engineering and Applied Science of Columbia University or Case Western Reserve University. Students in this program prepare for careers in applied science or engineering. The Cooperative Program with Columbia University asks students to meet a number of admissions requirements. Students earn a BA or BS degree from Fordham University and a BS degree from Columbia University in one of the following fields:
Applied Mathematics
Applied Physics
Biomedical Engineering
Chemical Engineering
Civil Engineering
Computer Engineering
Computer Science
Earth and Environmental Engineering
Electrical Engineering
Engineering Mathematics
Industrial Engineering, Engineering Management Systems, or Operations Research
Materials Science and Engineering
Mechanical Engineering
Students in this program:
Spend their first three academic years at Fordham College at Lincoln Center (typically majoring in Mathematics or Mathematics/Computer & Information Science).
At the end of this period, they transfer to Columbia University
After completing the second year at Columbia, they receive their BA or BS degree from Fordham and their BS engineering degree from Columbia
All Fordham core curriculum and major requirements must be satisfied before the student begins courses at Columbia University. In addition, students must take prerequisite courses required by the School of Engineering and Applied Science at Columbia University.
A list of those courses may be obtained from the program adviser upon request.
Fordham College at Lincoln Center Cooperative Program for Engineering Advisor:
Dr. Kei Kobayashi
Associate Professor of Mathematics
Office: LL 815-F