FCRH Transfer Student Advising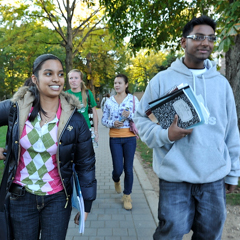 In September and January of each year, Fordham College at Rose Hill (FCRH) welcomes transfer students from institutions all over the country. Transfer students usually enter as freshmen or sophomores, depending on how many credits are awarded for courses taken at previous institution(s).
Upon admission to the College, transfer students will consult with the FCRH Transfer Advisor ([email protected]), to discuss credit transfer, course selection for the upcoming semester, and long-term academic plans.
Upon arrival, incoming transfer students participate in the New Student Orientation programs organized by the Office for Student Involvement.
In their first semester, all transfer students are enrolled in the FCRH Transfer Advising Program. This program is led by the Transfer Dean and Advisor and consists of group and individual meetings. The outline of meetings can be found below.
FCRH Transfer Advising Program Schedule
Group Meeting #1: Tools for Academic Success
Academic Support and Resources
Understanding Your Transfer Credit Evaluation
Core Curriculum and Degree Requirements
College Policies and Procedures
Group Meeting #2: Reviewing Your Academic Progress
Gauging Your Academic Progress
Major Declaration Overview
Course Registration Procedure
Individual Meeting: Mid-Semester and Check-In
Academic Progress
Major Declaration
Course Registration Plan
Other Concerns & Questions
Group Meeting #3: Planning for the Future
Study Abroad, Career Services, and Other Opportunities
Course Registration and Core Progress Check-In
Summer Coursework Policy and Procedure
Final Exam Reminders and Resources
Future Academic Advising