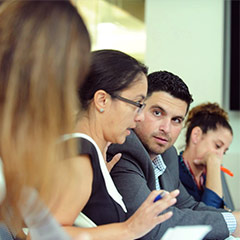 The Gabelli School's customized executive programs are designed specifically for organizations large and small. They tap into the full range of Fordham's business knowledge, research, and experience.
Executive education clients have access to the expertise of 127 full-time faculty as well as more than 100 adjunct instructors who are active practitioners in the New York City professional community.
Personalized curriculum
We will work with you to create a high-impact, company-specific program. The result will be a seamless integration of Fordham's academic and industry resources with your group's goals.
Custom programs can be delivered at any one of our three Fordham campuses—Lincoln Center, Rose Hill, or Westchester—in addition to off-campus wherever else you may require.
Contact us
We welcome inquiries at [email protected] or 212-636-7301. Greg Cooper, director of executive education programs, is available to answer any general or specific questions.