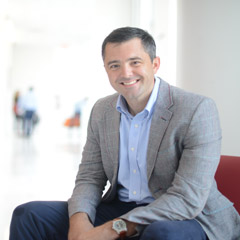 Transition your Service to the Business World
As a member of the U.S. Armed Forces, you have lived the ideal of "being men and women for others."
We at Fordham can relate.
Three concepts rest at the heart of Jesuit education: cura personalis, developing the complete individual; magis, the idea of constantly striving for greater excellence; and homines pro aliis, being men and women for others.
Each of those is inextricable from the U.S. military ethos—and it explains why so many former personnel find a home in our MBA community.
"Based on cost and opportunity, Fordham is one of the best kept secrets out there for transitioning service members. Period." – Chris Maloney (MBA '15), USMC Veteran
Where To? We'll Help You Get There
The Gabelli School caters to the needs of servicemen and women who want to transition their service of others to the business world.
We were ranked No. 21 nationwide in the 2016 Military Times "Best for Vets" list of business schools.
Ever thought about helping to launch pharmaceutical lines for in-need patients?
Ever considered becoming an accountant?
Ever envisioned yourself as a brand manager for a product your friends use every day?
Ever imagined working on Wall Street? Starting your own business or nonprofit?

With a Fordham MBA, You Can
Several of our faculty are veterans, and the Gabelli School enjoys strong relationships within the military community.
Ret. General Peter Pace, former chairman of the Joint Chiefs of Staff, has been an Executive in Residence at the Gabelli School since 2012. He joins us on campus several times a year to lead conversations with students about leadership and ethics.
MBA students are part of an active graduate-level organization called Business Student Veterans (B-VETS).
Email [email protected] today to arrange to speak with an admissions staff member, a member of our Military to MBA alumni network, or a member of our faculty with military experience.
The Yellow Ribbon Program
Fordham University is a proud member of the Yellow Ribbon Program, pledging to make it as easy as possible for veterans to receive a Fordham education.
Fordham MBA veteran-students, assisted by the GI Bill and the Yellow Ribbon Program, receive a housing stipend of roughly $3,500 per month as a full-time student (9 credits or more per term) and, most importantly, a world-class MBA education in the heart of Manhattan, completely debt-free.
During the 2008-2009 academic year, Fordham became one of the first universities in the country to commit to full participation in the federal government's Yellow Ribbon Program. The Fordham veteran community has grown significantly since then—today, more than 400 veterans are enrolled—and the university is currently ranked #21 in Military Times' national "Best for Vets" list.
We continue to affirm our Yellow Ribbon commitment to cover ALL tuition and fees for post-September 11 veterans and their dependents. The guarantee is applicable to any of the university's nine schools to which you are admitted. For complete details, see this Fordham Newsroom article.
Financing Assistance
Gabelli School of Business graduate students may finance their education through a variety of other sources including, but not limited to, private grants, scholarships, and financial aid coordinated through the Office of Student Financial Services.
Learn more about:
Email [email protected] today to arrange to speak with an a member of our Military to MBA alumni network, or a member of our faculty with military experience.