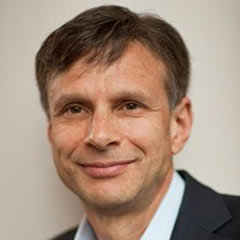 Visiting Professor at Fordham, Gabelli School of Business
Professor, Case Western Reserve University, Weatherhead School of Management
Sustainable Value Partners LLC, Co-founder and Managing Partner
Chris Laszlo, PhD, is a visiting professor at Fordham and advises the LPO area with regard to leadership for sustainability and flourishing. In his work he reframes sustainability as a business opportunity, turning environmental and social risks into drivers of innovation, greater employee engagement, and a new, inimitable source of competitive advantage.
Laszlo is the author of five books, including Sustainable Value: How the World's Leading Companies are Doing Well by Doing Good and The Sustainable Company, The Flourishing Enterprise, and most recently Quantum Leadership (with Fred Tsao). He has numerous articles in peer-reviewed journals and is the general editor of The Business of Sustainability.
As a co-founder and managing partner of Sustainable Value Partners LLC, he provides advisory services to senior leaders in some of the world's largest companies. Laszlo has led hundreds of seminars and spoken widely on sustainability for strategic advantage both at companies and at leading business schools.
Laszlo received his doctorate with distinction in economics and management science from the University of Paris. He holds an MPhil in economics and a master's degree in international affairs from Columbia University, and a BA with honors from Swarthmore College