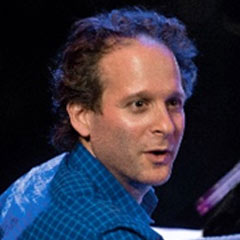 Jazz Power Initiative, Co-founder and Managing and Artistic Director
Eli Yamin is a jazz and blues pianist, composer, singer, producer and educator. He co-designed and leads jazz workshops for MBA and Executive MBA students at Fordham University's Gabelli School of Business. In partnership with Jazz at Lincoln Center, Yamin incorporates music and teambuilding to strengthen students' leadership skills.
Yamin co-founded and serves as Managing and Artistic Director Jazz Power Initiative, a non-profit organization that transforms lives through jazz arts education. Yamin was also the founding Director of Jazz at Lincoln Center's Middle School Jazz Academy for ten years. In 2018, Yamin released his book entitled So You Want to Sing the Blues: A Guide for Performers, which explores the history and modern life of blues music.
He holds a Bachelor's in Music from Rutgers University, a master's degree in music education from Lehman College, City University of New York and is a level III certified Somatic Voicework teacher.