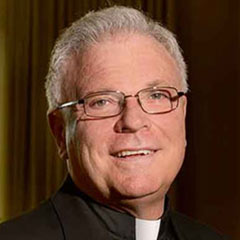 Fordham University, Visiting Research Faculty Member
Society of Jesus, Secretary for Higher Education, Rome
Former President and Chancellor of Loyola University, Chicago
Fr. Michael J. Garanzini, SJ is the Secretary for Higher Education for the Society of Jesus and a visiting research faculty member at Fordham University where he previously taught in 1998-1999.
While living in New York City, Fr. Garanzini focuses on expanding global responsibilities, including the launch of a new International Association of Jesuit Universities.
Previously, he served as chancellor of Loyola University Chicago for two years. Before becoming chancellor, Fr. Garanzini served as president of Loyola for 14 years, from 2001 to 2015.
A St. Louis native, he received his bachelor's in psychology from Saint Louis University in 1971, the same year he entered the Society of Jesus. He received a doctorate in psychology and religion from the Graduate Theological Union/University of California, Berkeley, in 1986. Fr. Mike advises the LPO area on how Catholic Social Teaching can guide better management education.