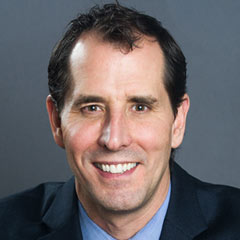 Greyston Bakery, CEO and President
Mike Brady has served as Greyston Bakery's CEO and President since 2012. During this time, he has continued to build on the company's long heritage of creating opportunities for anyone who wants a job.
Brady's visionary leadership has allowed Greyston Bakery to redirect traditional hiring expenses from those that exclude individuals (e.g. criminal background checks) to those that invest in ability regardless of background.
He has more than 20 years of experience in strategy and management, identifying business opportunities in high-growth and transitional industries. Brady serves as a business advisor to the American Sustainable Business Council and Social Enterprise Alliance helping to promote policies for a sustainable, flourishing economy. Brady earned an M.B.A. from the University of Pennsylvania Wharton School. He advises, supports and collaborates with the LPO area on research in humanistic management practices.