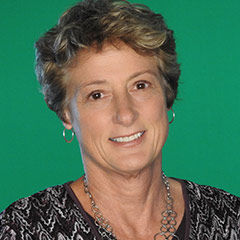 Professor
Information, Technology, and Operations
Joined Fordham: 1990
General Information:
140 W. 62nd Street, Room 405,
New York, NY 10023
Email: [email protected]
Professor Klotz has been a member of the operations faculty since joining the Gabelli School of Business in 1990. Before beginning work at Fordham, Professor Klotz earned a Ph.D. in management science and an M.A. in mathematical economics at The Pennsylvania State University. She earned her undergraduate degree from Indiana University.

During her tenure at Fordham, Professor Klotz has taught Operations Management at the undergraduate and graduate levels, and Statistics, Math Methods and Business Policy at the graduate level. She also teaches in the university's Executive MBA program. Professor Klotz's contributions to Fordham were recognized in 1999, when she won the Gladys and Henry Crown Award for Faculty Excellence, and in 2007, when she received the Stanley Fuchs Teaching Award. In addition to her university work, Professor Klotz has been a corporate trainer and consultant in the insurance industry, including for the Chubb Group of Insurance Companies.

Professor Klotz has published frequently cited scholarly articles in which game theory is applied to business decision-making, including papers in Management Science and the RAND Journal of Economics. In recent years, her interests have shifted to classroom pedagogy, with some of her most recent work appearing in the Journal of Innovative Education. Several of her interactive participatory-learning exercises are widely used by college educators and corporate trainers.

As a former Division I and All-Region basketball player, Professor Klotz was the lead plaintiff in several class-action lawsuits that resulted in educational institutions being required to comply with Title IX regulations as they relate to athletics. Her personal experiences as high school- and college-level athlete were featured in the 2001 PBS television documentary School: The Story of American Public Education, which chronicled the growth and popularity of women's athletics. More recently, Professor Klotz founded and became president of a New Jersey-based nonprofit public charity organization whose mission is to educate and develop leadership skills in girls and young women through participation in athletic competition.

Ph.D.: Pennsylvania State University
Master's: M.A., Pennsylvania State University
Bachelor's: B.A., Indiana University

Supply Chain Management Process Analysis and Design
Buyer-Supplier Relationships and Contract Design
Procurement and Auction Design Mechanisms
Theory of Constraints

"Contracting, Gatekeepers and Unverifiable Performance," (with J. Dearden) RAND Journal of Economics, Vol. 33, No. 4, Winter 2002.