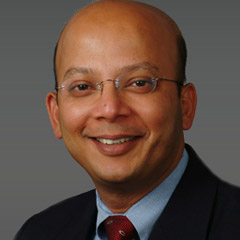 University Professor and E. Gerald Corrigan Chair in International Business and Finance
Joined Fordham: 2011
Program Director, PhD Program
General Information:
45 Columbus Avenue, Room 511,
New York, NY 10023
Email: ihasan@fordham.edu
Iftekhar Hasan holds the title of university professor at Fordham University, where he also serves as the E. Gerald Corrigan Chair in Finance at the Gabelli School of Business, co-director of the Center for Research in Contemporary Finance, and director of the Ph.D. program. He further serves as a scientific advisor at the Bank of Finland; as a fractional faculty member at the University of Sydney; as a research fellow at the Financial Institution Center at the Wharton School as well as at the IWH Institute in Halle, Germany. He is the managing editor of the Journal of Financial Stability and has served as an associate editor with several other reputed academic journals.

Professor Hasan's research interests are in the areas of financial institutions, corporate finance, capital markets, and emerging economies. He has been involved in numerous academic research grants from different governmental, national, and international science foundations and organizations in the U.S. and abroad. Hasan has more than 375 publications in print, including 16 books and edited volumes, and more than 280 peer-reviewed articles in distinguished academic outlets in finance, economics, international business, management, accounting, operation research, and information systems, including JFE, JFQA, JB, JME, RF, JFI, JMCB, JCF, FM, JBF, JIMF, SMJ, JIBS, HRM, JoM, BJM, JBE, RP, JAR, CAR, RAST, JAPP, JAAF, ABR, MSc, EJOR, and JMIS.

Professor Hasan has held visiting faculty positions at several research universities around the world, including the University of Rome, Italy; the University of Strasbourg, France; the University of Carlos III, Madrid; EPFL at Lausanne, Switzerland; the University of Limoges, France; National Taiwan University at Taipei; the University of Romania at Bucharest; Xi'an Jiaotong University, China, the University of Sydney, Australia; and NYU's Stern School of Business. Professor Hasan has also been a consultant or a visiting scholar for numerous international organizations, including the World Bank, the IMF, the United Nations, the Federal Reserve Bank of Atlanta, the Office of the Comptroller of Currency of the U.S. Treasury, the Banque de France, Development Bank of Japan, and the Italian Deposit Insurance Corporation.

A Fulbright scholar and a Fulbright selector, Professor Hasan is also a recipient of a "Doctor Honoris Causa" degree from the Romanian-American University in Bucharest.

PhD: University of Houston
MSS: University of Houston
BSS: University of Dhaka

Financial institutions
Corporate finance
Capital markets
Emerging markets
Network and machine learning

Selected recent publications

"Democracy and Credit," Journal of Financial Economics, with M. Delis and S. Ongena, (forthcoming), 2019.
"Investor Relations and IPO Performance," Review of Accounting Studies, with S. Chahine, G. Colak, and M. Mazboudi, (forthcoming), 2019.
"Foreign Ownership, Bank Information Environments, and the International Mobility of Corporate Governance," Journal of International Business Studies, with Y. Fang, W.S. Leung, and Q. Wang, (forthcoming), 2019.
"State Enforceability of Non-Compete Agreements: Regulations That Stifle Productivity," Human Resource Management. 57(1), 341-354, with S. Anand, P. Sharma, and H. Wang, 2018.
"Social Capital and Corporate Tax Avoidance," Journal of Accounting Research, 55(3), 629-669, with Hasan, I., Hoi, C. Wu, Q., and Zhang, H. 2017.
"The Effect of Board Directors from Countries with Different Genetic Diversity Levels on Corporate Performance," Management Science, 231-249, with M. Delis, C. Gaganis, and F. Pasiouras, 2017.
"Social Capital and Debt Contracting: Evidence from Bank Loans and Public Bonds," Journal of Financial and Quantitative Analysis, 52(3), 1017-1047, with C. Hoi, Q. Wu, H. Zhang. 2017.
"Relative Peer Quality and Firm Performance," Journal of Financial Economics, 122, 196-219, with B. Francis, S. Mani, and P. Ye, 2016.
"Urban Agglomeration and CEO Pay," Journal of Financial and Quantitative Analysis, 1925-1953, with B. Francis, K. John, and M. Waisman, 2016.
"Gender Differences in Financial Reporting Decision-Making: Evidence from Conservatism," Contemporary Accounting Research, 32(3), 1285–1318, with B. Francis, J.C. Park, and Q. Wu, 2015.
"Small Banks and Local Economic Development," Review of Finance, 19(2), 653-683, with H. Hakenes, P. Molyneux, and R. Xie, 2015.
"Beauty is in the Eyes of the Beholder: The Effect of Tax Avoidance on Cost of Bank Loans," Journal of Financial Economics, 113, 109-130, C. Hoi, Q. Wu and H. Zhang, 2014.
"Bank Regulations and Income Inequality: Empirical Evidence," Review of Finance, 18, 1811-1846, with M. Delis and P. Kazakis, 2014.
"State Antitakeover Statutes and Voluntary Disclosure," Journal of Financial and Quantitative Analysis, 48 (2): 637-668, with Y. Zhou and A. Allen, 2014.