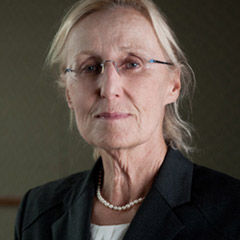 Professor
Finance and Business Economics
Joined Fordham: 1977
General Information:
140 W. 62nd Street, Room 408,
New York, NY 10023
Email: [email protected]
Katherin Marton, a Fordham professor of finance and business economics, has done extensive consulting work for the United Nations, visiting the majority of countries in Latin America, Africa and Asia to perform on-site studies of their technological development.

Beginning with the fall of the Berlin wall in 1989, Professor Marton focused her research on the economic and social transformation of Eastern and Central Europe, her home region. She received a Fulbright grant in 2011 to research and teach in Bolivia, where she applied her history of investigating foreign investments in developing countries to the model of mineral exploitation pursued under the government led by Evo Morales.

PhD: New York University, Business Administration
PhD: University of Vienna, Austria, International Economics
Master's: University of Minnesota, Economics
Bachelor's: University of Vienna, Austria

Economic restructuring of transition economies, Eastern and Central Europe, China
Foreign direct investment and development
Scientific and technological development in late-industrializing countries

From State- to Foreign Ownership – Transition of the Banking Sectors in Eastern and Central Europe, Global Economy Journal, 2008, vol.8. nr.1. p.1-19.
Is China on the Investment Development Path? Journal of Asian Business Studies. Spring 2007, vol. 11. nr.1. 1-18.
Development and Efficiency of the Banking Sector in a Transitional Economy" Hungarian Experience, Journal of Banking and Finance, 2003. vol.27. p.2249-2271.