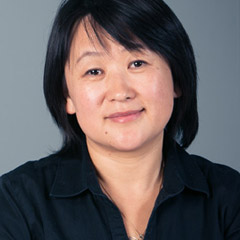 Clinical Assistant Professor
Accounting and Taxation
General Information:
Hughes Hall, Room 512,
441 East Fordham Road, Bronx, NY 10458
Email: hzhang45@fordham.edu
May Zhang is a clinical assistant professor of accounting and taxation at the Gabelli School of Business, where she teaches the International Accounting course. Before coming to Fordham, Professor Zhang held a faculty position at the University of Missouri's Trulaske College of Business.

Professor Zhang's research interests include executive compensation, corporate governance, financial statement analysis and international accounting standards. Her research has been published in The Accounting Review and the Journal of Business Finance and Accounting and has been presented at numerous domestic and international conferences. Professor Zhang has served as a manuscript reviewer for various journals in the accounting field.

Professor Zhang is an active member of the American Accounting Association. Prior to joining academia, she worked in business finance in a large retailer and at a pharmaceutical company.

PhD: Accounting, University of Texas at Austin
Master's: MBA, Western Carolina University
Bachelor's: BA in International Economics, Institute of International Relations

Executive compensation
Corporate governance
Financial statement analysis
International accounting standards

"Is CEO cash compensation punished for poor firm performance?" The Accounting Review, May 2010, with Ken Shaw.
"Fundamental analysis, institutional investments, and limits to arbitrage," Journal of Business Finance and Accounting, November/December 2011, with Yanfeng Xue.