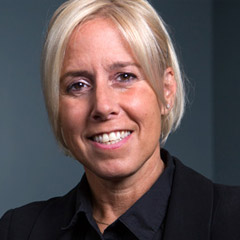 Clinical Assistant Professor
Leading People and Organizations
General Information:
140 W. 62nd Street, Room 313,
New York, NY 10023
Email: [email protected]
Michelle Weber is a clinical assistant professor in the leading people and organizations area at the Gabelli School of Business. She is a seasoned human-resources executive skilled in the disciplines of leadership and organization development, succession planning, executive coaching, 360-degree feedback, training, and survey and focus-group research. In addition to the Fordham course titled Fundamentals of Management, Professor Weber teaches the subjects of organizational dynamics and entrepreneurship. Her current research interests are in the areas of leadership research and career management.

Professor Weber earned her Ph.D. in organizational psychology in 1991 from Teacher's College, Columbia University, in New York. She began her career as an external consultant to Fortune 500 companies, working for W. Warner Burke Associates and Sirota & Alper Associates. She later made the transition to an internal consulting role at Philip Morris USA, where she earned a reputation as an adept human-resources executive coach and catalyst for change. She worked with the company's senior teams in sales and marketing, finance, corporate affairs and Information services.

Professor Weber's articles on sustaining quality improvement and organizational culture have been accepted for publication in the Total Quality Review and the Journal for Quality & Participation.

Ph.D.: Organizational Psychology, Teachers College, Columbia University, 1991
Master's: M.A.: Personnel Psychology, New York University, 1984
Bachelor's: B.A.: Psychology, Queens College, 1982

Sirota, D., Usilaner, B. & Weber, M. Sustaining quality improvement. The Total Quality Review, March/April 1994.
Sirota, D., Usilaner, B. & Weber, M. Breaking through the culture wall. The Journal for Quality & Participation, March 1994.