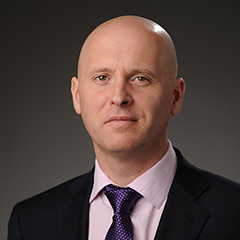 Grose Family Endowed Chair in Business
Associate Professor
Law and Ethics
Joined Fordham: 2008
General Information:
140 W. 62nd Street, Room 305,
New York, NY 10023
Email: [email protected]
Miguel Alzola specializes in ethical theory, particularly virtue ethics, as well as applied ethics. His current research focuses on virtue ethics and moral psychology. Professor Alzola is interested in the nature and psychological status of the virtues and the role of character in normative ethics and organizational behavior. He also is pursuing research on collective agency and the moral responsibility of groups. Within this field, his topics include human-rights obligations, corporate political activities, transnational bribery, and corporate and civilian responsibilities in wartime.

Professor Alzola held a Fulbright fellowship from 2004 through 2006 and received doctoral scholarships from the Prudential Foundation and Johnson & Johnson. In 2005, he received the Ethics and Social Responsibility Award from the Instituto Argentino de Responsabilidad Social Empresaria, and he won the Founder's Award from the Society for Business Ethics in 2005, 2006 and 2007. He received the Young Scholar in Philosophy Award from the Society for Analytic Philosophy.

Professor Alzola teaches courses in moral and political philosophy, applied ethics, corporate social responsibility and business ethics.

Ph.D.: Business Ethics, Rutgers University
Master's: M.A., Philosophy (Ethics), University of Buenos Aires
Bachelor's: B.A. summa cum laude, UNICEN (Argentina)

Moral and Political Philosophy
Applied Ethics (business ethics, environmental ethics and professional ethics)
Moral Psychology and Organizational Behavior
Environmental Ethics

Alzola, M. 2013. "Corporate Dystopia: The Ethics of Corporate Political Spending."Business & Society (in press). doi: 10.1177/0007650312474952
Alzola, M. 2012. "Reproductive Markets, Justice, and Filiation." Revista Argentina de Teoría Jurídica, Volume 13 (August 2012).
Alzola, M. 2012. "The Possibility of Virtue." Business Ethics Quarterly, Issue 22, pp. 377–404.
Alzola, M. 2012. "The Empirics of Virtue Theory: What Can Psychology Tells Us About Moral Character?" in Christoph Lütge (ed.) Handbook of Philosophical Foundations of Business Ethics Springer Publishing Company, Inc.
Alzola, M. 2011. "The reconciliation project. Separation and integration in business ethics research." Journal of Business Ethics 99(1): 19-36
Alzola, M. 2011. "The Ethics of Business in Wartime", Journal of Business Ethics, 99 (Supplement 1): 61-71.
Alzola, M. 2010. "Business, Ethics, and Psychological Realism." In Leslie A. Toombs (Ed.), Proceedings of the Seventieth Annual Meeting of the Academy of Management, ISSN 1543-8643.
Bright, D.S., Stansbury, J., Alzola, M., and Stavros, J.M. 2011. "Virtue ethics in positive organizational scholarship: An integrative perspective." Canadian Journal of Administrative Sciences, (in press).
Alzola, M. 2008. "Character and Environment: The Status of Virtues in Organizations."Journal of Business Ethics. 78:343-357.
Warren, D. and Alzola, M. 2009. "Ensuring Independent Auditors: Increasing the Saliency of the Professional Identity." Group Decisions and Negotiation 18(1): 41-56.
Alzola, M. 2008. "When Urgency Matters: On Non-Discretionary Corporate Social Responsibility." Human System Management 27(3): 273-282.
Alzola, M. 2005. "Collective Moral Responsibility. The Ontological Status of Organizations and the Limits of the Moral Community." Revista de Economía y Estadística, 43(1): 7-54.