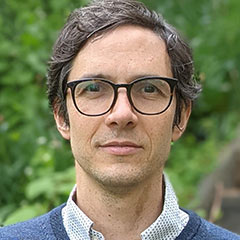 Assistant Professor
Law and Ethics
Joined Fordham: 2017
General Information:
441 East Fordham Road
Hughes Hall, 5th Floor
Bronx, NY 10458
140 W. 62nd Street
Room 359
New York, NY 10023
Email: [email protected]
Website: Google scholar profile
Santiago Mejia joined the Gabelli School of Business in 2017 as an assistant professor in the law and ethics area. He earned his Ph.D. in philosophy from the University of Chicago in 2016. Professor Mejia has a strong background in philosophy and ethics. His research interests span normative ethical theories of businesses, organizational behavior, moral psychology, and virtue ethics.

Professor Mejia's research currently gravitates around three major topics:

Shareholder primacy, the view that firms should be managed in the interest of shareholders. He has shown that shareholder primacy is ethically legitimate, but that it imposes on managers and shareholders more stringent ethical obligations than typically acknowledged.
Socratic ignorance, the view that the highest form of human wisdom consists in the recognition of one's ignorance about the most important human questions. He has been exploring what Socratic ignorance may have to offer to fields such as artificial intelligence, leadership, and the future of work.
Empirically informed approaches to virtue ethics. He has been exploring notions of virtue and human excellence that do justice to the empirical results from social psychology, behavioral economics, clinical psychology, and organizational behavior.

Professor Mejia won the Fordham's Distinguished Research Award for Junior Faculty in 2021, the Business Ethics Quarterly Outstanding Article Award in 2019, the Society of Business Ethics Founders' Award in 2016 and received two teaching awards at the University of Chicago in 2012 and 2015.

Website: Google scholar profile

Ph.D.: University of Chicago, 2016
Master's: M.A.,University of Chicago, 2010
Bachelor's: B.A., Philosophy, Universidad de los Andes (Bogota, Colombia), 2002
Bachelor's: B.S., Mathematics, Universidad de los Andes (Bogota, Colombia) 1999

Business Ethics
Organizational Behavior
Moral Psychology
Virtue Ethics

Santiago Mejia (2021). "Managers Should Satisfy Only the Ethically Permissible Preferences of Shareholders" In: Promarket (Oct 12). https://promarket.org/2021/10/12/managers-shareholders-ethics-hart-zingales/
Santiago Mejia (2021). "The Peculiar Nature of the Duty to Help During a Pandemic." Business Ethics Journal Review 9.2, pp 8–13
Santiago Mejia (2021). "Which Duties of Beneficence Should Agents Discharge on Behalf of Principals? A Reflection through Shareholder Primacy." In: Business Ethics Quarterly, 31.3 pp. 421–449.
Santiago Mejia (2020). "Socratic Ignorance and Business Ethics." In: Journal of Business Ethics, pp. 1–17. DOI: 10.1007/s10551-020-04650-x
Santiago Mejia (2019). "The Moral Imperatives of Humanistic Management." In: Humanistic Management Journal 4, pp. 155–158
Santiago Mejia (2019). "Weeding Out Flawed Versions of Shareholder Theory. A Reflection on the Moral Obligations That Carryover from Principals to Agents.", Business Ethics Quarterly 29.4, pp. 519–544.
Tae Wan Kim and Santiago Mejia (2019). "From Artificial Intelligence to Artificial Wisdom: What Socrates Teaches About AI.", IEEE Computer 52.10
Dawn Lerman and Santiago Mejı́a (2019). "Positive Marketing, Virtue, and Happiness." , The Routledge Handbook of Positive Communication. Ed. by José Antonio Muñiz-Velázquez and Cristina Pulido. New York: Routledge.