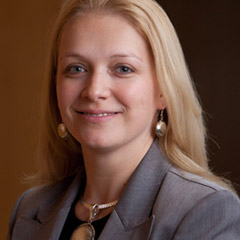 Associate Professor
Joined Fordham: 2010
General Information:
140 W. 62nd Street, Room 425,
New York, NY 10023
Email: [email protected]
Yuliya A. Komarova, an associate professor of marketing at the Gabelli School of Business, holds a Ph.D. from the University of South Carolina in addition to an undergraduate degree in marketing and an M.B.A.

Dr. Komarova's research interests lie primarily in the realms of affect-related biases in consumer judgment, ethics in advertising and neuroeconomics. She focuses on public-policy implications of consumers' suboptimal economic decisions as a consequence of their mood, emotions and feelings. She also is interested in a neural circuit for the processing of affect and the ways these processes influence how consumers react to advertising messages.

Dr. Komarova has presented her research to organizations such as the Association for Consumer Research, Society for Consumer Psychology and American Marketing Association. She received the Best Conference Paper Award at the summer 2008 American Marketing Association Conference, and in 2013, she received the Robert Johnston Highly Commended Paper Award.

Professor Komarova received the 2019 The Dean's Award for Faculty Service.

Ph.D.: University of South Carolina
Master's: Columbus State University
Bachelor's: Columbus State University/Novosibirsk State Academy of Telecommunication and Information Sciences

Moral Judgment and Regulation in the Marketplace
Consumer Deviance and Well-Being
Affect and Information Processing

Nejad, Mohammad G., Genevieve O'Connor and Yuliya Komarova (2022) "Opinion Leadership, Behavioral Diffusion, and Consumer Well Being," Journal of Personal Finance, 21(2), 101-116.
Nejad, Mohammad, Genevieve E, O'Connor, and Yuliya Komarova (2022), "Identifying Consumer Financial Opinion Leaders" Journal of Personal Finance, forthcoming.
Ozanne, Lucie K., Jason Stornelli, Michael G. Luchs, David Glen Mick, Julia Bayuk, Mia Birau, Sunaina Chugani, Marieke Fransen, Atar Herziger, Yuliya Komarova, Elizabeth A. Minton, Farnoush Reshadi, Gillian Sullivan-Mort, Carlos Trujillo, Hyeyoon Bae, Tavleen Kaur, Miguel Zúñiga (2021), "Enabling and Cultivating Wiser Consumption: The Role of Marketing and Public Policy," Journal of Public Policy & Marketing, 40(2), 226-44.
O'Connor, Genevieve E., Casey Newmeyer, Nancy Wong, Julia Bayuk, Laurel Cook, Yuliya Komarova Loureiro, Cazilla Loibl, Lin Ong, and Dee Warmath (2019), "Exploring Consumer Financial Vulnerability as a Critical Threat to Consumer Well-Being," Journal of Business Research, (forthcoming).
Carnevale, Marina, Yuliya Komarova, and Sertan Kabadayi (2018), "Customer Value Creation for High Risk Products: The Role of Brand Trust," Journal of Creating Value, Vol. 4(1), pp. 1-21.