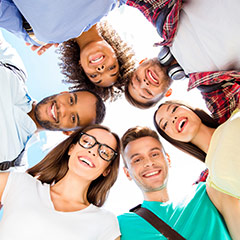 In the wake of COVID-19, we are happy to announce that our signature pre-graduate program Gabelli TALK will be offered remotely with special pricing. Participants will be able to join from any location in the world.
Gabelli TALK is a non-degree language, communication, and culture summer program that will begin on Monday, July 18, and concludes on Friday, August 12.
Throughout this immersive program, you will have the opportunity to:
Enjoy five extra weeks to prepare for graduate school through full immersion into the American classroom.
Get a head start in the job market and enhance your marketability with workshops hosted by our world-class Career Development Center.
Engage with business leaders at top companies through corporate visits.
Boost your English language and communication skills in small classes (max. 15 students) with business-focused courses designed specifically for your level.
Discover New York City!
Build long-lasting relationships with your new classmates from around the globe.
Please note: The program is now open to prospective students intending to pursue graduate education at any university in the United States.
Our remote learning program offers:
6 hours of synchronous class hours per week (8-11 am EDT Monday-Wednesday)
6 hours of synchronous workshops and panels (8-11 am EDT Thursday-Friday)
6+ hours of asynchronous professional development per week
Weekly Small Group and 1:1 interaction with course instructors
What can you expect from your online experience?
Small class size (no more than 15 students)
Individual attention and one-on-one support from award-winning faculty
Supportive and collaborative learning environment
A fully digital immersion into the American classroom and New York City