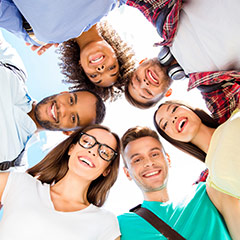 Gabelli TALK is a non-degree language, communication, and culture program designed to help you prepare for graduate school. The program will begin on Monday, July 18, and concludes on Friday, August 15.
Throughout this immersive program, you will have the opportunity to:
Enjoy five extra weeks to prepare for graduate school through full immersion into the American classroom.
Get a head start in the job market and enhance your marketability with sessions hosted by our world-class Career Development Center.
Engage with business leaders at top companies through corporate visits.
Boost your English language and communication skills in small classes (max. 15 students) with business-focused courses designed specifically for your level.
Discover New York City!
Build long-lasting relationships with your new classmates from around the globe.
The Gabelli TALK curriculum is designed to:
Take your academic performance to the next level by honing in on reading comprehension and adding finesse and precision to your writing.
Challenge your perspective, foster compelling debates, and share your story.
Sharpen your communication skills in professional settings; compose and revise intricate business documents.
Explore the richness of U.S. culture through thought-provoking lectures, lively discussions, and stimulating city tours!